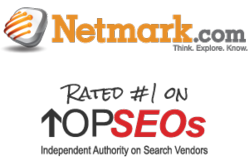 (PRWEB) May 24, 2013
Netmark is pleased to announce that Googles Penguin 2.0 update has had no noticeable effect on Netmark or Netmarks clients. On May 22, 2013 Matt Cutts, the head of Googles Webspam team, announced that Google had updated their algorithm with an official update known as Penguin 2.0. Netmark has long foreseen the changes affecting search engines and has invested time and effort into lasting internet marketing campaigns that do not rely on search engines alone. This approach to internet marketing translates into fewer changes during and after major algorithm updates.
News of Google updates are usually met with frantic concern over website rankings, as they affect businesses indiscriminately. Matt Cutts reported that 2.3% of search results were affected by the algorithm update. When Penguin 1.0 first rolled out, 3.1% of websites were reported to affected but the impact felt much larger to companies that had invested into link building search engine optimization campaigns.
Currently at Netmark the focus is on quality content and conversion rate optimization. Because this is the primary focus of their internet marketing endeavors, Google updates rarely affect them. Conversion rate optimization is designing a website that encourages people to interact with the site and convert by wither buying a product or hiring a service. Conversion rate optimization is scientifically tested through A/B testing, and is geared at helping the website perform better for every visitor to the site. This approach to internet marketing does not indulge in buying links to raise PageRank and has lasting effects versus link building and straight optimization. Netmarks approach grants the website greater growth that directly impacts the bottom line. Also, a large part of the Google algorithm continues to be based off of which website in the rankings people primarily open, how much time they spend on the website, and the number of pages visited. Google gathers this information through their Google Analytics. Therefore, in increasing the conversion rate, rankings will naturally increase as it shows a better overall experience which is one of the key metrics for Google.
Netmark specializes in all forms of internet marketing, pay-per-click advertising, search engine optimization, social media marketing, conversion rate optimization, and reputation management. Netmark is an award winning and highly regarded internet marketing agency located in Idaho Falls, Idaho, having received numerous recognitions in all areas of their specialization.
Netmark continues to grow into the Penguin update, and does expect to see some fluctuations, but Penguin, which is directed at unnatural and spammy links, has neither affected the company nor their clients to any great extent.