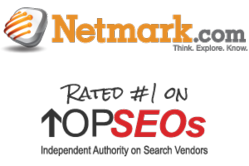 Idaho Falls Id (PRWEB) January 19, 2013
Netmark named the Best Search Engine Optimization Company by TOPSEOS.com. Including being ranked as the number one Search Engine Optimization Company, Netmark also holds numerous other top positions by TOPSEOS.com, including Best Enterprise SEO Company, Best Social Media Marketing Company, Best Ecommerce SEO Company, Best Landing Page Optimization Company, Best Conversion Rate Optimization Company, and Best Site Audit Company. Along with these prestigious awards, Netmark is listed as second Best Pay Per Click Management Company, second Best Link Building Company, and the third Best Reputation Management Company.
Netmark has been in business for over six years conducting internet marketing business. Netmark started in 2006 with Chad Heath, Josh Dalton, and Nate Hawkes working out of a garage in South Eastern Idaho. Since that time Netmark has grown into a company with over sixty full time employees, a corporate office, and developed intuitive SEO software. Netmark focuses primarily on search engine optimization with a keen eye on focused keyword optimization and solid white hat linking practices.
TOPSEOS is an independent authority that assesses internet marketing companies. TOPSEOS evaluates companies according to five different criteria:
1.