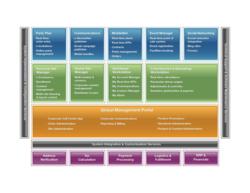 Lehi, UT (PRWEB) June 01, 2013
NetSteps, creator of ENCORE, a suite of world-class business applications for real-time direct sales company management, today announced that they will be featuring their newly released ENCORE Express at this years Direct Selling Association Annual Meeting.
The DSA Annual Meeting continues to be a networking hub for all things direct selling, providing a unique opportunity for those in the direct selling industry to come together to learn about new advancements and to engage with companies that support the direct selling industry with their goods and services. This years meeting will take place at the JW Marriott Desert Ridge Resort & Spa in Phoenix, Arizona from June 9th-11th.
NetSteps will be in attendance with their own booth, and will be meeting with direct selling businesses that are interested in having a complete end-to-end platform that can grow with them and provide a streamlined experience for their distributors. This includes the newly released ENCORE Express, which leverages NetSteps existing technology and caters it specifically to clients with annual sales of under $ 35 million. This new offering for smaller and emerging businesses means that they will be up and running (taking orders and recruiting distributors) within days.

If you will be in attendance at this years DSA Meeting, you can visit the NetSteps team and learn more about ENCORE and ENCORE Express at their booth, #800.
About NetSteps

Founded in 2003, NetSteps provides a complete end-to-end software solution for the global direct-selling industry. NetSteps' ENCORE can be implemented Cloud-based, Software-as-a-Service or as an Enterprise license. ENCORE provides instant access to the information required to grow direct sales businesses including multi-level marketing (MLM), party plan and hybrid sales companies. ENCORE powers real-time content delivery, Party Planning, commerce, compensation, social networking and brand management for globally distributed organizations of all sizes. NetSteps is a trusted strategic partner for companies with a broad range of go-to-market strategies, commission structures, products, and international markets and currencies.