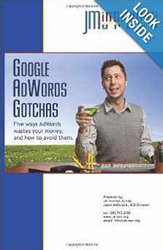 San Jose, CA (PRWEB) April 16, 2014
The JM Internet Group, a leader in AdWords training online, is proud to announce that review copies are available for Jason McDonald's latest book, Google AdWords Gotchas. The book explains the four "gotchas" inside of Google AdWords that can cost a small business a lot of money and damage the return on investment of their Google AdWords investment.
"I often compare AdWords to bing drinking in the book," explained Jason McDonald, director of the JM Internet Group. "Friends don't let friends drive drunk, and friends don't let friends use Google AdWords without a basic understanding of the five 'gotchas' that can cost of a lot of money."
The book is available now under a special review program for interested readers. To visit the JM Internet, simply go to http://www.jm-seo.org/books/adwords-gotchas.html. Next request a no obligation, no cost review copy of the new book on Google AdWords.
Why AdWords Matters for Small Businesses and Yet Can Be Dangerous
Today's consumers go first and foremost to the Internet when they search for products, goods or services. Google is the No. 1 search engine and Google AdWords is its flagship advertising vehicle. AdWords is based on keyword matching, bids, and the quality score of the various advertisers. That said, many advertisers do not understand the basic match types, especially 'broad match,' nor the use of the display network. Those two 'gotchas' alone cause quite a bit of cost to the novice advertiser. Google's enhanced campaigns are a second source of confusion, and the lack of context between AdWords (which costs money) and SEO (which is free) is a final source of inefficiency. The new book explains basic best practices for effective advertising on the Google AdWords network.
About JM Internet Group
The JM Internet Group provides SEO, Social Media Marketing, and Google AdWords training and courses for busy marketers and businesspeople. Online search engine optimization training helps explain keywords, page tags, link building strategies and other techniques needed to climb to the top of search engine rankings for Google, Yahoo, and Bing. The teaching methodology is hands on, with live examples and discussions, taught from the convenience of each student's computer.
Contact:

JM Internet Group, Media Relations

Web. http://www.jm-seo.org/

Email. jm.internetgroup(at)gmail(dot)com

Tel. +1-510-713-2150