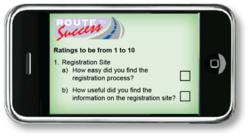 (PRWEB UK) 15 April 2013
Before the conference app, meeting attendees were subjected to an armful of event agendas and speaker notes and often struggled to get to the right workshop at the right time, claims Victor Tardieu of Full Circle Motivation. And with precious little time for networking, events were a challenge when all delegates had to go on was a persons name badge and a location map on a notice board.
DAX (delegate app experience) the new mobile app for conferences changes all that its a fun way of connecting the business message and the delegate. This new leading edge tool for engaging conference attendees also provides unprecedented business intelligence to organisers. From the point of registration, conference audiences can be better and more consistently informed. Currently optimised for iPad, user interfaces can be added for all major smartphones, tablets and the traditional web.
With a range of new features, the conference app puts information and interaction directly into the delegates hands. Further, the app is a dynamic educational, communication and marketing tool providing: