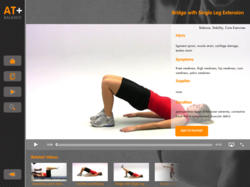 St. Louis, MO USA (PRWEB) February 22, 2013
Noted textbook author William Prentice, PhD, ATC, PT, FNATA, together with co-authors and experienced athletic training educators Amanda Andrews Benson, PhD, ATC, LAT and Linda Stark Bobo, PhD, LAT, have identified and addressed a need that has existed since the earliest days of sports medicine and rehabilitation: patient compliance. Whats more, they have done it in a truly unique and high-tech way that is remarkably in-step with todays patients with a brand new iPad app, Athletic Trainer Plus.
Athletic Trainer Plus is an app available for iPad that lets Athletic Trainers build playlists of professionally produced how-to exercise videos, and then email patients a link to view their own prescribed exercises for a fully customized, multimedia approach to patient education. This means that in addition to reviewing written instructions and/or static illustrations, patients can now watch video demonstrations of exactly what they were taught to do during the rehabilitation session. The videos simply open and play for the patient in any Internet browser from any computer there is nothing for the patient to download, purchase or install.

As lead author William Prentice points out, "Our hope is that athletic training clinicians can use AT+ to design and deliver comprehensive, visual, therapeutic exercise programs that can enhance the care they are providing for their patients."
This approach has been widely praised by practitioners who see the value in having immediate access to a vast database of authoritative knowledge readily accessible and available to pass on to patients and peers. Jay M. Albrecht, Ph.D., ATC, of Minnesota State UniversityMoorhead, believes that AT+ has struck a chord with the profession and believes that it will be useful in a number of ways, first and foremost, to help the newest members of our profession become better educated and better leaders than the rest of us could ever imagine something (I hope) this particular product will help the students (in our athletic training education program) accomplish!
More details about the product and its capabilities, including screen shots, can be found at the iPad app store.
About the Authors

Bill Prentice, PhD, ATC, PT, FNATA is a well-known author, educator, and experienced clinician. He has been a Professor and Coordinator of the Sports Medicine Program at the University of North Carolina at Chapel Hill for more than 30 years.
Amanda Andrews Benson, PhD, ATC, LAT is the Department Chair and Program Director for Athletic Training Education at Troy University. She has maintained active involvement within AT education as a member of the CAATE review team and volunteers through the USOC.
Linda Stark Bobo, PhD, ATC, LAT is the ELM Program Director at Stephen F. Austin State University. She continues to be an active volunteer with the medical team for USA Tae Kwon Do and the CAATE as a Site Visitor.
About Van Brien & Associates

With over three decades experience in textbook and content development for a wide range of health care professions, Van Brien brings todays technology to the practice setting to help educators and practitioners gain new insights and speed patients toward better outcomes.
Connect with AT+ on Facebook.