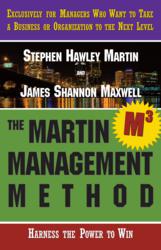 Richmond, Virginia (PRWEB) January 08, 2013
Stephen Martin and his brother David built two businesses. They sold the first to a NASDAQ listed firm and the second to a New York Stock Exchange company. One of those businesses, The Martin Agency, was named Ad Agency of the Year in 2010 by ADWEEK. Forbes recently called it One of the Ten Great Ad Agencies of 2012.
Now Stephen Martin has revealed their secrets to building outstanding businesses in a new book called The Martin Management Method.
Most firms achieve success through the power of the personality and drive of a single person or perhaps a small core group of individuals, Martin said. But our method employs a process that doesnt rely on personality or persuasion. It establishes a framework that causes everyone from the top down to feel personally accountable and to pull together with a sense of urgency to move the business toward a shared vision. With our method, a strong personality at the helm is a plus but not actually required because, once in place, success in pretty much inevitable.
Martin points to the fact that The Martin Agency continues its upward trajectory years after the founders departed, having launched such well-known ad campaigns as the GEICO Gecko, Caveman, and others for UPS, Pizza Hut and WalMart.
What does the Martin Management Method entail?
A vision of what a business can be and a clear identity are key elements. Their book explains the process used to put a finger on these, but it also explains how to insure leaders and staff actually live the vision by creating a structure comprised of a few simple rules involving scorecards, action registers, and interlocking teams.
Martin said his current company, a management consultancy called Martin Partners, is offering an eBook version of the book free as a way to show what his firm can help a company accomplish. Just visit http://www.martinpartners.net and follow the instructions.
Printed copies of the Martin Management Method are available at the publishers website: http://www.oakleapress.com and at Amazon.com.