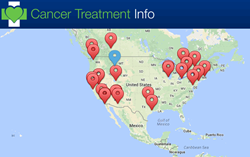 Blackfoot, Idaho (PRWEB) May 21, 2015
Louis Kraml, CEO of Bingham Memorial Hospital, recently announced the launch of a passionate new project and websiteCancerTreatmentInfo.org.
With over 40 years of experience in the medical industry and first-hand knowledge about how vicious and insidious cancer can be, Mr. Kraml is changing the way people with cancer are being treated and cared for. As such, he founded the American International Cancer Cures Institute and created CancerTreatmentInfo.orga safe place where cancer patients, survivors, and family members around the world can have immediate access to support, successful cancer treatment options, and reputable clinics around the world.
In addition to providing extensive research-based content on the website to help readers avoid cancer, such as maintaining a healthy diet, exercising moderately yet regularly, and keeping a healthy body weight, Mr. Kramls website offers visitors a wide variety of information about cancer treatments. Mr. Kraml explains, I want people to know about options that they might not have previously known about.
There are many other therapies and supportive treatments that are offered by different facilities not just in the United States, but around the world, says Mr. Kraml. I always recommend that people read, study, and carefully weigh their options before making any decisions. Many of these treatment methods have proved their efficacy, while others have a lot of anecdotal evidence, and many have not yet met the threshold of being effective from a statistically significant standard.
Mr. Kraml encourages people to share their experiences with conventional and integrative or holistic methods for treating cancer. And, while many patients opt for mainstream treatment methods such as surgery, radiation, chemotherapy, and hormone therapy to cure their bodies of the disease, a number of patients are exploring new methods such as metabolic therapy, dendritic cell therapy, hyperthermia therapy, and acupuncture. Its important people are having a conversation about the latter treatments as well, says Mr. Kraml.
The next phase of CancerTreatmentInfo.org will be to establish a supportive online community for people to share personal experiences about cancer so others could be as informed as possible. Mr. Kraml wants people to be able to share the little things that their healthcare providers did that meant a lot during cancer treatments, what emotional support was lacking, or where did people travel to outside of the United States for treatments that had positive outcomes.
Ultimately, he hopes the platform hes creating will enable people to share advice with those who are just beginning their cancer journey, or would like to share details about what they would do differently if they could go back and start their treatment plan over again. Please join the conversation today at CancerTreatmentInfo.org.
About Louis Kraml, CEO
Louis Kraml, founder of the American International Cancer Cures Institute, is the CEO of Bingham Memorial Hospitala 501(c)(3) non-profit critical access hospital located in Blackfoot, Idaho. Bingham Memorial Hospital is committed to the pursuit of excellence in its endeavor to provide a continuum of quality, compassionate, health care services for residents and visitors of Idaho, in an efficient, cost effective manner.
For more information, please visit http://www.cancertreatmentinfo.org
Media Contact:

Mark Baker

Director of Public Relations & Marketing

98 Poplar Street

Blackfoot, ID 83221

208.785.3858 – 208.782.2864 (fax)

mbaker(at)binghammemorial(dot)org