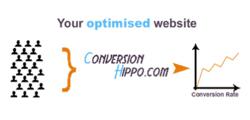 Horsham, Sussex (PRWEB UK) 29 April 2013
Stormforward Retail Ltd, an e-commerce and fulfilment company, based in Horsham, Sussex have launched a new conversion optimisation and Google Analytics consultancy website, ConversionHippo.com. This new consultancy service is aimed at small- to medium-sized businesses that have a web presence but have little to no understanding of their web metrics or tend to have a lot of visitors but a very low conversion rate.
ConversionHippo.com offer a variety of analytics services including planning and implementation, training for current employees to help them understand the reports in Google Analytics, auditing and Advanced Analytics configuration.
They also offer conversion optimisation consultancy. This is the practise of getting more out of your current visitors, meaning a business doesn't have to pour more money into expensive advertising streams to boost revenues. Their conversion consultancy is proven to help increase conversion rates which means more sales and ultimately more profit for no extra spend. Businesses that are not sure that they need conversion optimisation consultancy can check out their handy conversion calculator to see how much extra revenue a business could be making, by increasing the conversion rate on their website.
Conversion specialist, Shaun Longhurst says, "We have found from our own experiences that understanding your metrics and testing alternative designs on a website can lead to a dramatic rise in sales."
ConversionHippo.com are currently offering a free 30 minute consultation with one of their conversion experts for businesses to help them understand their web metrics or to help any business that has never thought of conversion optimisation testing to give it a go.