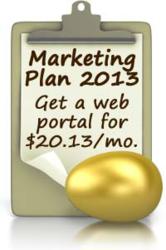 (PRWEB) November 16, 2012
There's good news for dentists from dental marketing leader Internet Dental Alliance, Inc. (IDA). Economic indicators are pointing toward increases in consumer spending in the United States for 2013, and that includes dental treatments that have been put on hold for the past several years. To help dentists can take full advantage of this long awaited turn of events, IDA created a "2013 Economic Recovery Package". It's available until available until November 21st, and lets dentists set up their own dental website to attract high value patients – for just $ 20.13 a month
"I pay a lot of attention to the markets, to online searches, and to consumer spending patterns. It's been tough out there for the past few years — but we're turning a corner," says dental marketing expert Jim Du Molin, founder of Internet Dental Alliance, Inc. "I want to spread some financial cheer, so I'm offering a dental website for an entire 4 months for just $ 20.13 a month. I'm putting a lot on the table with this deal, but I think dentists deserve it!"
The IDA New Patient Marketing Machine is designed so that dentists can easily take total control of their internet marketing campaigns. IDA provides 24/7 access to step-by-step tutorials so there is virtually no learning curve involved with set up. Search engine optimization (SEO) for both dental market keywords and local geographical markets is fully automated to attract the exact types of new high value patients dentists want in their practice.
Doctors can choose from dozens of dental website design options, and easily make drag-and-drop changes and see the results almost instantly — whenever they like, without having to worry about losing web page content or personal photos. Doctors also have the option to publish ready-made articles from IDA's online library to make their Portals an educational resource for their new and existing patients, along with a host of features that make IDA Portals easy for dentist to customize for their dental practices.
"IDA can help you attract 5, 10, 15 – even up to 20 – additional new patients a month to your practice," adds Du Molin. "And remember, the IDA "2013 Economic Recovery Package" is only available until Wednesday, November 21st."
About Internet Dental Alliance, Inc.
IDA is North America's largest provider of websites for dentists and dental directories. In 2012, it completed its cutting-edge dentist marketing Lead Fire lead generation system. Based on organic geo-targeted local search strategy which is customized for each dental office, LeadFire technology automates search engine optimization, and makes it possible to generate new patient leads within minutes of setting up the system. Internet Dental Alliance provides dental practices with online dental marketing services such as dental practice websites, website design, find-a-dentist websites, and other dental management advice and resources.