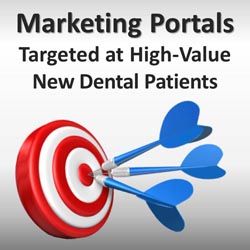 (PRWEB) September 09, 2012
Dentists who want customizable dental marketing websites that can be set up with turnkey ease will find the best of both worlds with the New Patient Marketing Machine program from Internet Dental Alliance, Inc. (IDA). The New Patient Portals (dental websites) that are at the heart of the program can be fully personalized from color palette to layout to web page content all within minutes and with just a few clicks.
IDA's proprietary LeadFire content publishing system is just one of the cutting-edge technologies behind its unique lead generation program. It lets doctors set up their internet dental marketing campaigns quickly and easily without having to learn complicated and time-consuming software skills. Using IDA's push-button online Control Panel, doctors choose the design, types of pages and the dental market focus for each of their Portals.
LeadFire then automatically carries out the search engine optimization (SEO) for each page, customizing the entire site for both local search terms and dental service keywords. This double-barreled approach to SEO generates leads that live near the dental practice and are looking for the exact services the practice provides, such as orthodontics, general dentistry, teeth whitening, dental implants, etc.
"Because of LeadFire's powerful content publishing capabilities, dentists can launch an online campaign within minutes to find the exact kinds of new dental patients they want," explains Jim Du Molin, former dental marketing consultant and founder of Internet Dental Alliance. "The new dental website will be instantly visible to the public, so there's no need to wait for a web design company to find an opening in its schedule in order to start generating new leads."
By using multiple Portals, the New Patient Marketing Machine lets dentists easily set up online campaigns to find new patients for their most profitable clinical skills. Each Portal is focused on one Primary Dental Market of the doctor's choice, such as cosmetic dentistry, gum disease treatments, dentures, etc. This SEO strategy helps the site rank well in the SERPs (search engine results pages) where patient prospects who are searching online for those specific dental services will find it. Each Portal is then cross-linked to up to 3 of the practice's additional dental websites to let site visitors know about other services the dentist offers.
About Internet Dental Alliance, Inc.
IDA is North America's largest provider of websites for dentists and dental directories. In 2012, it completed its cutting-edge dentist marketing Lead Fire lead generation system. Based on organic geo-targeted local search strategy which is customized for each dental office, LeadFire technology automates search engine optimization, and makes it possible to generate new patient leads within minutes of setting up the system. Internet Dental Alliance provides dental practices with online dental marketing services such as dental practice websites, website design, find-a-dentist websites, and other dental management resources.