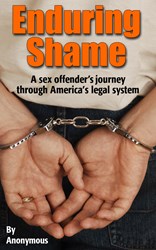 (PRWEB) October 25, 2013
Sometimes a persons life can be turned upside down in the blink of an eye. In 2012, the author was a 49-year-old family man who had a penchant for having erotic online chats with women until one chat went too far. After being lured to a face-to-face meeting, the author found himself handcuffed and riding in the back of a police car.
"Enduring Shame: A Sex Offenders Journey Through Americas Legal System" is a first-person account detailing the authors obsession with online chatting, an obsession that led to his being arrested and put in jail. As a result, the author was convicted of two felony counts and required to register as a sex offender even though he had never been in trouble with the law before in his life. As frightening as it may sound, the authors experience could have happened to anyone.
The book raises many questions: What is the definition of a sex offender? How far should a police officer be allowed to go to get a previously law-abiding citizen to commit a crime? What happens to a sex offender after conviction? And finally, how can a person remove the stigma of being a registered sex offender and try to move on with his life?
The author, who published the book anonymously, gives an unflinching look at what it is like to go through the legal system, to be on probation, and to go through sex offender treatment. Although names and locations have been changed as a way to protect the authors family, every other detail of the book is true.
"Enduring Shame: A Sex Offenders Journey Through Americas Legal System" is now available as an eBook on Amazon.com. For media outlets wishing to obtain a review copy of the book in PDF format, please contact enduringshame@yahoo.com. The author is willing to grant interviews as long as his identity can be protected.
Facebook: http://www.facebook.com/enduringshame
Amazon: http://www.amazon.com/Enduring-Shame-Offenders-Americas-ebook/dp/B00G3EAJ3A/ref=sr_1_1?s=books&ie=UTF8&qid=1382509086&sr=1-1&keywords=enduring+shame