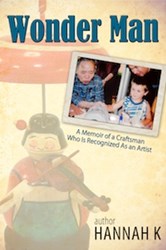 Fukuoka City, Fukuoka Prefecture, Japan (PRWEB) September 19, 2013
His name is Masaaki Hiroi. Sitting in front of his lathe for hours every day, he is confronted with a personal challenge to create a new, intricate spinning wooden top from whatever springs into his imagination. Though tops have been considered a childs toy for centuries, those of Hiroi have been recognized as decorative art for decades. Author Hannah K introduces the world to Hiroi and his art in Wonder Man A Memoir of a Craftsman Who is Recognized as an Artist.
As a young child, Masaaki Hiroi survived the sudden and devastating loss of his mother and brother during World War II. Instead of wallowing in anger and bitterness, he chose to cherish precious and fun memories with loved ones and classmates through art and skill. He learned how to make tops from his father and enjoyed sharing his creations with friends. He decided to devote his life fully to making people happy by creating tops and toys that are not only entertaining, but that also share and preserve Japanese culture.
Author Hannah K first met Masaaki Hiroi when she was two years old. Amazed by the intricate tops he created, she told him that she would one day build a museum with his tops and toys. As she grew, she wrote articles to commemorate his exhibits and recently decided to write a book about his life, talent, and dedication to Japanese culture.
When people think of Japanese arts, they tend to think of pottery or Ukiyoe, says Hannah K. Masaaki Hirois tops are recognized as a type of interior decorative ornament with his unique taste and sense of humor. Devoted to Japanese culture, Hirois extraordinary talent and ability to create new tops with interesting movements using various physical theories cannot be imitated or replicated.
Wonder Man reveals not only the story and background of a great craftsman, but also a secret unknown to many: Hiroi is the father of Tippe tops. Last made and documented in the 18th century, the design for Tippe tops was though to be lost. Hiroi was shown a historical document featuring the lost style of top and asked if he could reproduce it. He successfully created the first-ever wooden Tippe top, which makes a half-turn and stands spinning upside-down. Tippe tops are often replicated now, but are not of the same quality as Hirois hand-carved tops.
In addition to Tippe tops, Hiroi works to preserve traditional Japanese Edo tops, originally from the 17th century. Among Edo tops, there are standard tops and various kinds of trick tops that require traditional Japanese intricate engineering skills, which have 300 years of historical background.
Wonder Man includes several detailed full-color photographs of Hirois tops and of moments from his life. Over the past few decades, he has received invitations from several government organizations for the purpose of cultural exchange. He has traveled to over 30 countries to share his creations and Japanese culture with children. Several of his creations are permanently housed in the Mus