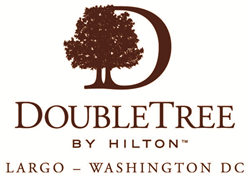 LARGO, MD (PRWEB) April 30, 2015
Construction is nearly complete on the newest hotel to be added to the landscape of the Washington, DC area in Largo, Maryland, just minutes outside of our nations capital. The DoubleTree by Hilton Largo/Washington DC, one of the few hotels near FedEx Field, and the only full service property in the area, is owned by Frontier Development & Hospitality Group LLC, and managed by Crescent Hotels & Resorts, a leading operator of hotels with over 100 properties in its North American portfolio. The hotel currently holds a Radisson flag, and will complete its multimillion upgrade to a DoubleTree next month.
We are excited to bring this Hilton brand to the Largo area, said Tim Bowes, Vice President of Sales for Crescent Hotels & Resorts. Its symbolic of the tremendous growth of the area, and we are glad to be a part of this positive economic boost as well as being a good community member. We look forward to giving fans and teams coming to FedEx Field a full service option with the ideal location. FedEx Field, located one and a half miles from the hotel, not only hosts sporting events but has become one of the premier Washington, DC area locations for concerts and special events.
The hotel also offers a location close to Andrews Air Force Base, the home to Air Force One. We appreciate how hard our military work for us and are glad to be able to offer those traveling to Andrews Air Force Base the comforts they deserve, said Bowes. Hilton brands have always supported government and military travelers and we look forward to caring on that long standing tradition.
Largo, Maryland has emerged into a key area of the national capital region, and we believe this is an ideal time to add a world class brand to Prince Georges County stated Evens Charles, President and CEO of Frontier Development. With key government agencies, major corporations as well as tremendous residential and commercial growth, the area truly needs an upscale hotel. There has been significant business oriented growth in the market, and that is why we decided to invest our capital here and develop the DoubleTree Hotel in Largo, Maryland.
Transition to the DoubleTree by Hilton Largo is nearly complete. We are committed to transforming this investment into a best in class, business oriented hotel stated Norman Jenkins, President of Capstone Development, and a partner in the deal. We are working shoulder to shoulder with our architects, engineers, and Hilton Worldwide to ensure that we not only meet, but exceed the expectations of our guests.
All 184 guest rooms will be redesigned and outfitted with a chic, contemporary look and feel. The hotels public space, meeting rooms and food/beverage zones will also be reinvented. Included in the many upgrades are the XC Bar and Grill and the accompanying XCs Lounge, the ideal location for locals to unwind after a long day of work. In addition, the hotels new design will feature a new exterior social zone that will be anchored by a fire pit. Finally, the hotel will have a new state of the art fitness center and indoor pool.
The hotel is remaining open throughout the transformation.
ABOUT FRONTIER DEVELOPMENT & HOSPITALITY GROUP LLC

Frontier Development & Hospitality Group LLC is a real estate development and acquisition firm with a diverse asset portfolio but a primary focus in hospitality. Frontiers invested assets include hotels, luxury residential and multi-family projects. Frontiers hotel portfolio totals over $ 100MM in market value and has included brands like Marriott, Hilton and InterContinental hotels. For more information, please visit http://www.frontier-development.com.
DOUBLETREE BY HILTON HOTEL LARGO/WASHINGTON DC

In the suburbs of Maryland, just outside Washington, D.C., the DoubleTree by Hilton Hotel Largo/Washington DC offers the ideal location for those traveling to the nations capital. The hotel offers a full-service restaurant, lounge, indoor pool, fitness center and so much more. Complimentary shuttle service is available to nearby restaurants and two Metrorail stations giving direct access to all major Washington, D.C. attractions and businesses. Located just 1.5 miles from FedEx Field, home of the Washington Redskins, the hotel is equidistant between Reagan National Airport (DCA) and Washington Dulles International Airport (IAD). For more information, visit their website.
ABOUT STAY IN WASHINGTON DC

Stay in Washington DC includes Crescent Hotels & Resorts hotels located in and around Washington, DC. These properties are internationally recognized brands including, Hilton, Hyatt, Sheraton, Westin, Wingate by Wyndham, Radisson, Cambria Hotels & Suites and Best Western. Most hotels are in walking distance to a Metrorail or offer complimentary shuttle service that links guests to the citys world renowned Metrorail network. All locations offer various dining, shopping and entertainment options just minutes away via walking, complimentary shuttle or Metrorail. Several locations offer award winning restaurants right inside the hotels. For more information, visit http://www.stayinwashingtondc.com, like on https://www.facebook.com/StayInWashDC, follow on http://www.twitter.com/stayinwashdc, follow on Instagram, subscribe on YouTube and connect on Google+.
ABOUT CRESCENT HOTELS & RESORTS

Crescent Hotels & Resorts is a nationally recognized, top-5 operator of hotels and resorts. Crescent currently operates over 100 hotels and resorts in 36 states in the US and 4 provinces in Canada. Crescent is one of the few elite management companies approved to operate upper-upscale and luxury hotels under the brand families of Marriott, Hilton, Starwood, Hyatt and IHG. Crescent also operates a collection of legendary independent hotels and resorts. Crescents clients are made up of hotel REITs, private equity firms and major developers. For more information, please visit http://www.chrco.com.
Stayinwashingtondc.com #stayinwashdc