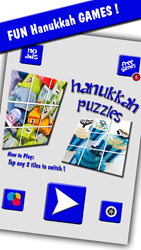 Ontario, Canada (PRWEB) November 28, 2013
Two of the top-downloaded Hanukkah apps available on Apple's iTunes App Store were developed in Ontario, Canada. "We saw a need for high-quality Jewish holiday-themed apps on the iTunes store," says company CEO Jason Bavington. "So we took our gaming experience and applied it to apps that can be enjoyed by kids and also [Jewish grandparents] Bubbie and Zaide." The apps are designed to have shared game playing experience, so people can enjoy and laugh together.
Hanukkah Coloring Book:
Hanukkah Coloring Book is an easy-to-use coloring app for kids 3 and up. Dancing dreidels, live latkes, and many other surprises await the Hanukkah Coloring Book player. This app gives children beautiful Hanukkah drawings to color in with rainbow color options and various marker sizes. Key features of this app include:

+25 beautiful pictures to color in.
Rainbows of colors to choose from.
Different marker and eraser sizes.
Color menorahs, dreidels, latkes, candles, and many other holiday items.
Email to Bubbie, Zaide, family, friends, and more.
Save to Camera Roll.
Share on Facebook and Twitter.
Print via AirPrint.
Suitable for kids 3+ and adults young at heart.
Through coloring the pictures, children become more familiar with the Festival of Hanukkah and more actively recognize the symbols of the holiday.
"Our kids made the most beautiful coloring pages. Bubbie and Zaide loved it!" — Flint R
Hanukkah Puzzles:
Hanukkah Puzzles is a brain-teaser puzzle app with puzzles from 9 to 100 pieces. Brain-teasing tile changing puzzles with 8 difficulty levels are the hallmarks of this app. Fun at first and quickly addictive, children and adults alike can solve any of the +25 puzzles built into the game. They can also personalize the app by creating puzzles using their own photos from Facebook, Camera Roll, or by snapping a picture. Key features of this app include:

+25 Beautiful Hanukkah Photos
Tile-Swap Puzzles
8 Difficulty Levels
Timer Mode
Puzzles from Camera
Puzzles from Camera Roll
Puzzles from Facebook
Share scores on Facebook, Twitter, and GameCenter
With so many ways to create and then solve puzzles, you just might end up spending the Eight Days solving more than celebrating!
"I like the fact that you can choose the difficulty of each puzzle. Beautiful photos, too. A great Hanukkah app!" — Sostroff
The Hanukkah apps are available for download at miApps.
About us:
"miApps!" is a mobile app studio that develops high-quality gaming apps and provides enterprise-level app development solutions. "miApps!" is a division of Midnight Illusions Ltd., a Canadian-based digital marketing company with +15 years of experience in web, social, and mobile app development.