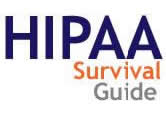 Largo, Florida (PRWEB) April 01, 2013
3Lions Publishing, Inc. (3LP), the owner/operator of the HIPAA Survival Guide, is pleased to announce Release 1.0 of its Subscription Service . The Service is available for purchase in 3LP's new HIPAA Survival Guide Store, along with 3LP's suite of Omnibus Rule Ready products. The Omnibus Rule represents a significant update to the HIPAA Rules, including the Privacy Rule, the Security Rule, the Breach Notification Rule, and the Enforcement Rule. 3LP's product suite has been updated to reflect the Omnibus Final Rule modifications.
3LPs Subscription Service and products (Products) provide policies, processes, and tracking mechanisms to help covered entities and business associates deliver visible, demonstrable evidence of HIPAA compliance. The HIPAA Rules tell you what is required in order to comply; 3LP's Products provide best practice step-by-step guidance to help you meet compliance objectives.
3LP's HIPAA Compliance Products are based on 3LP's H2 Compliance Scorecard methodology, which provides a powerful mechanism for reviewing an organizations progress, and facilitates compliance reporting. In addition to implementation guidance, 3LPs updated products provide model out-of-the-box Omnibus Rule Ready policies, procedures, templates and other tools that are easily customizable to fit your organizations unique needs.
Carlos Leyva, CEO of 3LP, says: 3LP continues to deliver innovative HIPAA compliance Products with Release 1.0 of our Subscription Plan and an Omnibus Rule Ready suite of Products. Our compliance Products deliver on the promise of news you can use at a time when HIPAA compliance has been radically transformed. Our Products are swipe and go priced to be economically affordable for healthcare stakeholders of all sizes, industry wide.
About 3Lions Publishing, Inc. (3LP)
3LP focuses on publishing online context sensitive content within well-defined subject matter domains, such as healthcare. 3LP helps publishers leverage and monetize their content by providing a publishing platform that matches high quality content with an SEO centric set of audience development tools. 3LP is located in the greater Tampa, FL area. To learn more about 3LP, visit its flagship site at http://www.hipaasurvivalguide.com.