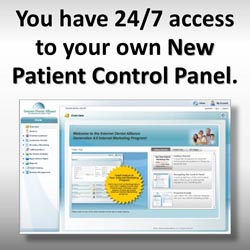 (PRWEB) October 08, 2012
Internet Dental Alliance, Inc. (IDA) now makes managing internet dental marketing campaigns easier. Its convenient online Control Panel provides dentists with an easy-to-use yet high-powered dashboard that lets them design and manage multiple dental marketing websites (known within IDA as New Patient Portals) to generate leads for the exact kinds of patients they want to see in their practice.
The Control Panel puts dentists in full control of all of the components of their New Patient Marketing Machine — IDA's comprehensive dental practice marketing package that includes their customizable Portals, dynamic search engine optimization (SEO), lead tracking reports, online dental directory listings, etc. From the Control Panel, dentists choose the geographical and dental markets they want to target, and IDA's proprietary LeadFire technology can launch a new search engine optimized Portal in less than 10 minutes.
IDA's Control Panel lets doctors instantly launch new dental marketing campaigns — any time of night or day that are focused on the exact kinds of new patients they want to see in their practice, says former dental management consultant Jim Du Molin, founder of Internet Dental Alliance, Inc. "Dentists can set up a new 24/7 lead generation source any time they want to attract a steady stream of new high-quality patients every month."
The online Control Panel allows doctors to easily customize and personalize the content, design and marketing focus of their dentist websites. Available web page templates include Doctor Credentials, Doctor Philosophy, Office Tour, Smile Gallery, Practice News, Patient Testimonials, Financial Terms and many others that dentists easily differentiate themselves from their competition.
Dentists can also choose ready-made articles and videos from IDA's extensive online library. Articles on specific topics like cosmetic dentistry, dental implants, wisdom teeth, etc. attract patients based on the doctor's clinical skills. More general articles about dental hygiene, financing and post treatment care serve as an online educational resource that's available 24/7 for both new and existing patients.
About Internet Dental Alliance, Inc.
IDA is the largest provider of dental directories and websites for dentists in North America. In 2012, it completed its unique Lead Fire lead generation system, which automates dental SEO and content marketing. LeadFire technology allows doctors to begin generating new patient leads within minutes of set up. It uses organic geo-targeted local search which is customized and optimized for each dental office. The Internet Dental Alliance provides dental practices with online dental marketing services such as dental website design and other dental management resources