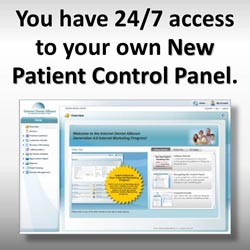 (PRWEB) September 17, 2012
New dental marketing websites from Internet Dental Alliance, Inc. (IDA) feature an online Control Panel that lets dentists customize and launch their turnkey dental websites (Portals) in less than 10 minutes, thanks to IDA's proprietary LeadFire content publishing technology. This unique system can publish hundreds of search engine optimized web pages within minutes, based on the information doctors provide about their practice and marketing goals via the Control Panel. In fact, from that single dashboard, doctors can easily manage multiple Portals and all of the internet dental marketing tools included with IDA's New Patient Marketing Machine packages.
The online Control Panel is available online 24 hours a day, 7 days a week, so dentists can add or change their dental practice marketing campaigns at their convenience. It's also where dentists can customize their website's design, layout and content with just a few clicks of a mouse. Doctors have access to hundreds of pre-written articles, professionally produced videos and stock images to use when launching a new Portal. There are also dozens of web page templates such as Doctor's Philosophy, Doctor's Credentials, Office Tour, Smile Gallery, Practice News, Patient Testimonials, etc. — that make it easy for doctors to customize their Portals with content that's specific to their dental practice.
IDA's Control Panel lets doctors launch new geo-targeted and market targeted lead generation campaigns that attract the kinds of high-value patients that dentists choose for their practice, says dental management consultant Jim Du Molin, founder of marketing resource Internet Dental Alliance, Inc. "Dentists won't have to waste time learning complicated website publishing programs or waste money to have dental SEO articles written for their sites.
From within the online Control Panel, dentists enter their dental practice address information and choose up to four additional local geographical markets to target. Dentists also choose their primary dental service focus from among 20 of the most in-demand dental treatments, such as cosmetic dentistry, general dentistry, dental implants, wisdom teeth, etc. By using one Portal for each dental service their practice offers, doctors can maximize the number of new patients that visit their practice each month.
About Internet Dental Alliance, Inc.
IDA is the largest provider of dental directories and websites for dentists in North America. In 2012, it completed its unique Lead Fire lead generation system, which automates dental SEO and content marketing. LeadFire technology allows doctors to begin generating new patient leads within minutes of set up. It uses organic geo-targeted local search which is customized and optimized for each dental office. The Internet Dental Alliance provides dental practices with online dental marketing services such as dental website design, and other dental management advice and resources.