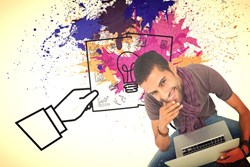 New York, New York (PRWEB) January 30, 2014
YAY is proud to present a revolutionary image streaming service for bloggers.
The saying is that a picture is worth more than a thousand words. When communicating a message an image has a powerful impact on the audience, whether its through a blog post or a presentation.
A well-placed image in a blog post will make the message clearer to understand for the reader, and also help them remember the blog post later. It also gives the brain a small pause for reading the text. Add to this that images can add to the visual design and feel of a blog, and its clear that bloggers should always use good, well-placed and edited images in their blog posts and in social media.
Most bloggers knows that images are important, and try to use quality, legal images in their blog posts. Many use Google images or Flickr, as the professional image agencies dont have an offer suited for online use. While images can be found on Google and Flickr, most of them lack a safe, legal license, and its also quite difficult to find the perfect image. Bloggers can find this at professional image agencies, but the prices offered are aimed at large publishing houses, not bloggers and other online image users.
YAY is changing this with the release of YAY's image streaming.
Bloggers often 'borrow' images, since they cant afford to pay for a license. Instead for going after them with fines, we wanted to create a product tailored for the online user," says CEO of YAY Images, Linda L. Johannessen.
We wanted to create a product for bloggers, with a focus on their actual needs. People dont need to download images when its easier and faster to just stream them. People need a wide variety of quality, legal images for their blogs, and thats what streaming at YAY gives them.
The image search at YAY makes it easy for a blogger to find the perfect image for a blog post. Bloggers can search for images with or without people, for specific colors, for images without specific colors, or exclude keywords. Its also possible to search with an image to find similar images. And all this for a price bloggers can afford.
Why should a blogger have to pay hundreds of dollars to use professional, legal images on their blog? You can stream as much music and movies for $ 10, and we think you should be able to stream images in the same way. Thats why weve set the price to only $ 9.90 a month for unlimited images for blogs and online use.
Watch video to learn more about streaming.
Core Facts:

Users can stream an unlimited number of images for their blogs, websites, emails, and ads.
The site includes an easy-to-use online image editor with all the tools bloggers and online image users need to quickly edit the images – filters, cropping, text, and much more
After choosing an image the user gets a link. This link is used in the online service. If the service doesnt support image links the user is allowed to save the image and upload it.
Images will be hosted by YAY, also if a user ends the subscription.
In February users can upload their own images so they can take advantage of the online editor and free hosting. This service will be free, even without a paid subscription.
Users have access to over four million images – celebrity images launching in February.
Only $ 9.90 a month for the streaming package.
Image subscription packages for design and print are available starting at $ 49/month with full download and no daily limit.
Background:

YAY Images is the world's first stock-photo streaming site. Launching January 2014, from the creators of YAY Micro comes millions of images ready for streaming directly to a website or blog. YAY Images also provides an easy-to-use editor and included hosting for all images. Users can choose between streaming, digital or print packages, which provides them with the services they need.