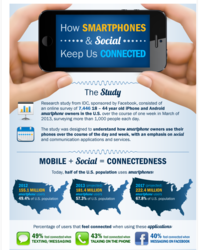 ANDOVER, Mass. (PRWEB) May 13, 2013
Effective Student Marketing has released a new infographic that details important information about how todays prospective students are using their smartphones in their daily lives. This is a great resource for professionals in the higher education industry who are constantly looking for new ways of connecting with their target audience and modernizing their lead generation strategies.
The infographic, titled How Smartphones and Social Keep Us Connected, was created from data collected from IDCs research study, which was sponsored by Facebook. For the study, IDC surveyed over 7,000 smartphone users, ages 18 to 44, over the course of one week in March 2013. The study aimed to understand the how smartphone users are using their devices throughout the week, and specifically how theyre using the social and communication applications on their phones.
The key finding in the study was that smartphones have revolutionized the way we communicate, socialize, share, and connect. Smartphones, combined with the social and communication applications, allow us to stay connected with our friends, family, and community throughout the day. Its vital for admissions departments to understand and embrace these new trends moving forward in order to continue to reach their student lead goals in an increasingly competitive marketplace.
The How Smartphones and Social Keep Us Connected Infographic from Effective Student Marketing breaks down the data from this study on to a graphic thats visually appealing and easy to understand. Heres what youll find in this new infographic: