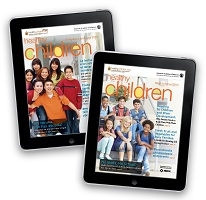 (PRWEB)
July 16, 2015
HealthyChildren.org, the official American Academy of Pediatrics (AAP) Web site for parents, has released a new issue of Healthy Children, a digital-only magazine for smartphones and tablets. Available in English and Spanish, the new issue focuses on getting parents and kids ready for the new school year. It features useful information on how reading to children helps brain development, why childhood immunizations are important (and required in many states prior to the start of the school year), how to connect with kids in todays digital world, and how to choose and store fresh vegetables for a healthy diet.
"This issue of Healthy Children will provide parents with important information that will help to ensure kids are off to healthy start as they head back to the classroom this fall, said Jennifer Shu, MD, FAAP, medical editor of HealthyChildren.org.
The e-magazines feature article, No Shots, No School: Make Sure Your Childs Immunizations Are Up to Date emphasizes the importance of making sure children are fully immunized, explains the consequences of not immunizing, and answers questions about specific vaccines. The December 2014 to April 2015 measles outbreak linked to an amusement park in California is a reminder that diseases can easily spread across continents and be especially dangerous to those who are not vaccinated.
Parents may download the e-magazine on iTunes or Google Play stores. The digital magazine is also available as a PDF at http://www.HealthyChildren.org/e-magazine
This issue of Healthy Children e-magazine was supported by an independent grant from Merck.
###

About HealthyChildren.org

The only parenting website backed by 64,000 AAP member pediatricians, HealthyChildren.org offers trustworthy, up-to-the-minute health advice and guidance for parents and caregivers, along with interactive tools and personalized content. Registered users enjoy a customized home page that features articles geared to the ages of their children as well as a free bi-weekly e-newsletter. The site also offers a Find a Pediatrician service, an Ask the Pediatrician tool, the KidsDoc Symptom Checker, and more than 3,000 articles on childrens health.