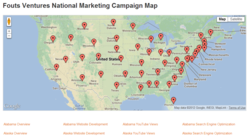 Los Angeles, CA (PRWEB) December 15, 2012
Since ancient Roman times, maps have helped people travel great distances over land and sea. The craft of creating maps, called cartography, has evolved from using stones to paper to computers. Google Maps was introduced in 2005 and has evolved into one of the most prominent mapping technologies on the planet (1). Today, Fouts Ventures is utilizing Google Maps' technology to create a mapping platform for customers to find web and marketing services.
To connect potential clients to marketing and web services in their area, Fouts Ventures created pages for each state in the country, targeting specific keywords such as California website development, California YouTube Views, and California search engine optimization. Each page is optimized for specific keywords. The result is an interactive directory of web and marketing services nationwide.
The map is also beneficial to the website hosting it. Since their introduction to the web in April 2011, Google Panda and Google Penguin have changed the way websites are ranked in Google search results. High-quality sites are better ranked and "thin," low-quality, or advertisement-filled sites are ranked lower. Additionally, search engine optimization firms can no longer use outsourced link farming methods to bolster a site's search engine ranking (2). Fear of penalties and loss of rank encourage websites and social media marketers to create high-caliber, relevant content instead.
Following Google policies, Fouts Ventures customized each state's page with a unique Twitter account displaying real-time tweets, custom articles, and YouTube videos. This river of fresh content keeps the map system relevant and well-ranked. Additionally, this mapping system provides a framework for boosting the Fouts Ventures brand to a national level and is designed to scale up for major national retail marketing campaigns.
Look forward to improvements to the system in early 2013:
A) Improved location map coordinates for capital cities

B) Location-based coupons

C) City-wide marketing
###
Press release by Fouts Ventures. Questions or comments about this press release contact the Fouts Ventures Editorial Staff at 1-800-277-5221 or visit http://www.foutsventures.com
(1) "Google Maps announcement on Google Blog". Googleblog.blogspot.com. Retrieved January 12, 2010 googleblog.blogspot.com/2005/02/mapping-your-way.html
(2) "Another step to reward high-quality sites". Official Google Webmaster Central Blog. googlewebmastercentral.blogspot.com/2012/04/another-step-to-reward-high-quality.html