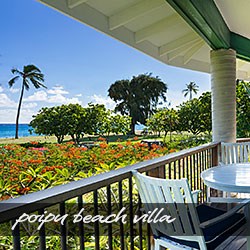 Poipu Beach, Kauai, Hawaii (PRWEB) November 15, 2013
One of the only Kauai vacation rentals fronting Poipu Beach Park is now offered by The Parrish Collection Kauai. Available for the first time ever, Poipu Beach Villa joins their collection of the most oceanfront properties available anywhere on the South Shore of Kauai. This exciting new Kauai beach rental is perfect for couples and families who seek superior accommodations and the personalized services from a team of on-island property managers. Reservations for the deluxe two bedroom Kauai cottage can be made online or by calling Parrish Kauai at 800-325-5701.
Poipu Beach Villa – Close to Popular Kauai Activities
Priced from $ 550 nightly for up to four guests, this deluxe Poipu rental features two Master Suites with air-conditioning and private baths. Panoramic ocean views can be seen from the great room and the expansive beachfront lanai with a private hot tub. Lush tropical gardens and a spacious 2,200 square foot tropical interior help to set the tone for a beach escape to remember. Kauai activities nearby include dining at Brennecke Beach Broiler and enjoying its legendary body surfing beach. Family favorite Poipu Beach Park is only steps away and chosen by the Travel Channel as one of the top ten in the USA.
"We are thrilled to welcome Poipu Beach Villa to our Collection and providing our refined sense of service to loyal guests," commented JP Parrish, owner of The Parrish Collection Kauai. "Our commitment to delivering the best experience possible guarantees guests a relaxing time so they can enjoy all that Kauai has to offer. The very best part of a vacation is letting someone else do the work and that is what we are here for."
Kauai Cottage and Oceanfront Poipu Rental Collection Expands
These exquisite collections offer beach cottages from $ 300 nightly to luxury villas for $ 2,000, and considered some of the world's finest. Locations include Kauai cottages fronting Hanalei Bay to ultra-luxurious accommodations at Kukui`ula Club Cottages with their exclusive private club amenities and top ranked golf course.
Diverse Portfolio Now Offers New Collections
Choose from Kauai condos starting at $ 98 in their Value Collection, a Kauai honeymoon or couples retreat from the Romance Collection, child friendly properties in the Family Collection and vacation homes with private swimming in the Pool Collection. For more details on these new properties, visit the Parrish Collection Kauai website or call 800-325-5701.
About The Parrish Collection Kauai
Established in 1984, The Parrish Collection Kauai represents the islands finest selection and variety of luxury Kauai vacation rentals including the most oceanfront properties at Poipu Beach. Rated Excellent by TripAdvisor and as a "2013 Top Rental Manager" by FlipKey, their distinguished collection of 200 homes and condominiums on the North Shore Kauai and South Shore Kauai is complemented with a dedicated long-term staff and a full service Guest Concierge. Four offices are located in Koloa, Princeville and at Poipu Beach to assist guests and owners. Their latest Kauai deals, online direct booking and property information is available on the Parrish Kauai website and by calling 800-325-5701. Also featured is their new Kauai webcam with live views of the Poipu Beach coastline.