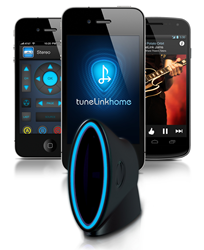 WILMINGTON, NC (PRWEB) November 07, 2014
New Potato Technologies, an innovator and developer of app-enabled accessories for mobile devices, re-introduces TuneLink Home for iPhone, iPad, and iPod Touch devices. It is now on sale on Amazon.com with discount coupons available.
Pre-dating similar devices by other companies, TuneLink Home provides a wireless link between the user's device and home entertainment system providing both hi-fidelity streaming audio and universal infrared remote control functions. TuneLink connects audio via analog or digital output to the entertainment system and includes a powerful infrared blaster that broadcasts commands from your device to your media equipment.
TuneLink Home allows users to experience their music or audio from ANY APP in their home without the hassles of wired connections or the complexities of other solutions. Just like TuneLink Auto before it, TuneLink Home includes a best-of-class Bluetooth transceiver that operates over ranges of more than 120 feet to deliver crystal clear audio to your entertainment system along with unique auto connecting and sharing features not found in other products.
TuneLink Home is also a powerful programmable universal remote control and includes a comprehensive and growing database of over 80,000 pre-programmed remote control codes, the ability to learn new codes, and allows the user to create custom macros, personalize their remote skins, layouts, and functions. Equipped with a wide angle infrared LED array and an IR extender port, user commands reach their intended control target.
The TuneLink Home device is controlled by a free application that can be downloaded today from the iTunes App Store and soon from Google Play. It is a snap to setup, and is the only simple-to-use connected accessory that provides BOTH crystal clear streaming audio link and full featured dongle-free, battery-free, and truly powerful universal remote.
"Finally, the mobile device in your grasp is both your player and your remote, so stream your tunes and take control!" says Bill Leland, Chief Marketing Strategist of New Potato.
"Our mobile companions have become the center of our universe and we rely on them to provide our communications as well as our entertainment. These amazing devices hold all of our stuff and as users we want really seamless ways to access them within our connected lifestyles. TuneLink Home provides a simplified solution for connecting to and controlling your home entertainment system from your mobile device," says Stuart Ross, CEO of New Potato.
TuneLink Home works with all A2DP Bluetooth capable iPad, iPhone, and iPod Touch models. For more information on TuneLink Home, please visit http://www.newpotatotech.com. The TuneLink accessory is available now at http://www.newpotatotech.com, Amazon.com and in select retail locations for $ 99.99.
About New Potato Technologies

New Potato Technologies is a creative design company headquartered in Wilmington, North Carolina, and focused on extending the amazing iPhone, iPod and iPad and Android platforms into new innovative areas.
For more details on TuneLink Home and New Potato, visit newpotatotech.com or contact media(at)newpotatotech(dot)com.