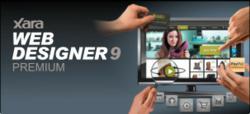 (PRWEB) April 06, 2013
Xara announces the release of Xara Web Designer 9, a web authoring tool for Windows, aimed at both graphic designers and anyone wanting a high quality website, without the need to know HTML coding, scripting or the usual technical jargon.
The usual limitations of HTML web authoring simply do not exist in Xara Web Designer. Users have the freedom to use any font, to place anything anywhere on the page with pixel precision, the freedom to automatically repel text around irregular shapes or alpha-channel images, the freedom to draw vector graphics on the page, with transparency, and for all of this to just work.
Xara Web Designer 9 Premium comes many innovative new features:

HiDPi or Retina compatible websites – automatically
Direct integration of 620+ Google Web Fonts
HTML 5 and CSS3 support ( websites are automatically backwards compatible with older browsers)
Improved Google Analytics integration
A 32bit and a 64-bit version for 64-bit Windows. No more memory limits.
Bundled web hosting, with simple no-FTP-jargon publishing.(1)
A Free top level domain for one year. (e.g. a .com, .co.uk or .de, etc)
100+ new business-specific website templates available (2)
The world is rapidly moving to HiDPI or Retina screens. Creating hi-resolution compatible websites the traditional way can be technically complicated and time consuming. With Xara Web Designer it's as simple as a single check-box. It automatically creates two versions of all graphics and photos, and corresponding script code so that the right image resolution is shown on each device.
Charles Moir, founder and Managing Director of Xara said, "The dual nature of Xara Web Designer separates it from the myriad of simple website creators. We have professional website and graphic designers who use it as the fastest way to create custom designs. It's the perfect rapid prototyping tool, but unlike Photoshop, you get a real working website, not just a mock-up. For everyone else, the template approach means you can take one of the hundreds of website templates and customize the content, fonts and colours to create a unique final design.
Web Designer is Xara's most popular product and this version 9 is a big step forward. With automatic Retina compatibility, support for leading edge features such as Google fonts, HTML5 and CSS3, super-smooth hardware accelerated transition effects such as pop-ups, and all websites being compatible with mobile and desktop browsers makes Xara Web Designer an ideal choice for novices as well as professional designers.
Xara Web Designer Premium 9 retails for $ 99.99.
An entry level (reduced feature) version, called simply Web Designer 9, is available for $ 49.99, ideal for customers who are completely new to web design.
Existing Xara Web Designer users can upgrade for as little as $ 29.99
Xara Web Designer 9 operates on Windows XP, Vista, 7 and 8 and requires a minimum 500MB of RAM and a minimum of 300MB hard-disk space.
Additional information:

Xara Web Designer
Web Designer 9 detailed feature description
Examples of the 100+ business-specific template designs
An example web page using a few of the new features
(1) Web Designer Premium customers gets 2Gbytes of free hosting space and a free top level domain for one year, provided by MAGIX Online World. All customers can get 500Mbytes free hosting 'forever' with no subscription.
(2) In addition to 20 new general purpose website themes bundled with this new release, we have made available more than 100 business specific template designs, as ready-to-use websites (just edit the contents to suit) including relevant stock photography. Web Designer 9 Premium customers can select one design for free, additional business designs costs just $ 15
(3) Web Designer is available under both the Xara and MAGIX retail brands.
EDITORS' NOTES

More information and downloads.
Please see the press centre at http://www.xara.com/presscenter/webdesigner.
This includes press materials, graphics, screenshots, product information and a full list of new features.
Contact:

For more details or a serial number to unlock the trial version please contact:

Nova Fisher, nova(at)xara(dot)com Tel: +44 1442 351035
About Xara Group Ltd

Xara has been developing cutting edge software in the UK since 1981 making it one of the very earliest European software houses. Xara has developed a wide range of products covering the whole realm of publishing and graphics software. Xara Designer remains the world's fastest, and many believe, the world's best drawing and illustration software.
Xara has a particularly strong technology and innovation history. It pioneered many of the graphics technologies and techniques now standard in the industry today such as anti-aliased vector graphics, vector transparency, object feathering, etc. Many of its user interface techniques have been adopted by the industry.
In January, 2007, Xara Ltd was acquired by MAGIX AG from Berlin, Germany. The company now operates as a wholly owned subsidiary
About MAGIX AG

For 20 years MAGIX has been providing high-quality multimedia software to millions of homes and offices around the world and enabled the creative integration of music, photos and videos into our everyday lives. MAGIX is constantly developing new software for the creation, editing, management and presentation of your content and projects.
Internationally, MAGIX operates from branches in the USA, Canada, the UK, Germany, France, Italy, Spain and the Netherlands. The product range is targeted towards laymen and professionals alike and goes beyond the PC range to include seamlessly integrated online and mobile applications.
According to its retail sales figures, MAGIX leads in the multimedia software sector in the most important European markets, and is one of the most successful competitors in the USA. Twenty years of market presence as well as one thousand awards worldwide testify to the company's power of innovation.