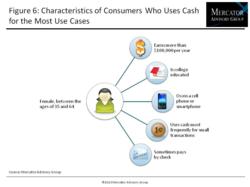 Boston, MA (PRWEB) January 20, 2013
Cash is the most pervasive, and ancient, form of consumer payment. As such, cash presents a unique set of barriers to a global industry wanting to dig deeper into building out a fully electronic payments market. Cash acceptance also requires less technical infrastructure on the part of the merchant, while being anonymous, flexible, self-reported, self-budgeting, and readily available to any consumer with the ability to earn an income.
In new research, Consumers and Cash: A Love Story, Mercator Advisory Group examines how moving cash transactions to e-money offers one of the few net new growth opportunities for retail financial institutions and tightens revenue streams for governments.
"A contemporary portrait of cash as a tender type has to acknowledge the fact that the dynamics of cash usage are more complex than for most other consumer payment forms. This is due to the fact that cash payments take place inside and outside legal and regulatory boundaries in more embedded ways than any other form of tender," comments Patricia Hewitt, director of Mercator Advisory Group's Debit Advisory Service and author of the report.
Major highlights of this report include:


The knowledge gaps surrounding the cost of acceptance pertaining to cash payments.
The current value of consumer cash payments in the United States (and the estimated percentage of all consumer payment volume this figure represents).
The two distinct demographic segments of cash usage and how they will affect product strategies designed to expand into cash transaction categories.
The stakeholders that must contribute toward solving the cash "problem" by addressing the needs of managing micropayments and offering equivalent benefits of convenience and liquidity.
This report is 24 pages long and has 11 exhibits.
Entities mentioned in this report include: Federal Reserve Bank, U.S. Treasury, PayNearMe, PayPal, Walmart, Western Union, ZipZap, Coinstar, eBay, MoneyGram, Amazon, and Greyhound.
Members of Mercator Advisory Group's Debit Advisory Service have access to this report as well as the upcoming research for the year ahead, presentations, analyst access and other membership benefits.
Please visit us online at http://www.mercatoradvisorygroup.com.
For more information and media inquiries, please call Mercator Advisory Group's main line: (781) 419-1700, send E-mail to info(at)mercatoradvisorygroup(dot)com.
For free industry news, opinions, research, company information and more visit us at http://www.PaymentsJournal.com.
Follow us on Twitter @ http://twitter.com/MercatorAdvisor.
About Mercator Advisory Group

Mercator Advisory Group is the leading, independent research and advisory services firm exclusively focused on the payments and banking industries. We deliver pragmatic and timely research and advice designed to help our clients uncover the most lucrative opportunities to maximize revenue growth and contain costs. Our clients range from the world's largest payment issuers, acquirers, processors, merchants and associations to leading technology providers and investors. Mercator Advisory Group is also the publisher of the online payments and banking news and information portal PaymentsJournal.com.