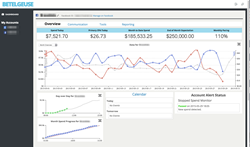 Medfield, MA (PRWEB) June 09, 2015
OrionCKB, a direct response firm and the leading agency for social media advertising and PPC marketing, today announced the launch of Betelgeuse, the companys proprietary dashboard that gives client acquisition and marketing teams a clear look into how their ad spend is pacing and overall campaign performance based on where that spend is allocated.
For many companies, the greatest challenge in getting a holistic view of their advertising performance is piecing together disparate sources of data. Advertising software partners with multiple reporting dashboards, siloed agencies or in-house teams, non-standardized metrics, and varied campaign goals all prevent advertisers from easily understanding how their campaigns are performing across channels.
The high-level view achieved within Betelgeuse allows clients to understand how budgets are being spent and performing throughout the day in real-time. In-house teams can now to spend their time addressing overall trends, making time-sensitive decisions, and answering questions about pacing rather than juggling the minutiae of multiple data sources and bloated spreadsheets.
Additional features include:
–Trends & Forecasting: Review performance across Facebook, Twitter, Google Adwords and Bing Ads, and compare to market performance in real-time. Visualize changes in important metrics like Month-to-Date Spend and Return on Ad Spend (ROAS).
–Daily Benchmark Emails: Comprehensive breakdowns by the day or hour can be triggered and sent to your inbox at preferred intervals.
–Market Comparisons: See how your campaigns are performing compared to others in your industry.
–Spend Alerts & Reporting: Clients can easily set up alerts on CPA thresholds and spend issues.
–Creative Reports: Get a clear breakdown of which creative combinations drove the highest return.
–Communication: Make note of campaign anomalies, spend caps, new budget releases, and other anecdotal information affecting performance.
–Active Ads Dashboard: See in one place all of the live ads that are running across all channels.
The goal was to give our clients one central dashboard where they could check in quickly and take the pulse of their ad campaigns while enjoying their morning coffee, said Scott Briggs, President of OrionCKB. No complicated spreadsheets to download, no vanity metrics to scroll through, no surprises from day to day, just clear insights about how their campaigns are doing and how much value were helping them drive to their business.
About OrionCKB
OrionCKB is a leading direct response advertising agency specializing in Facebook, Twitter, PPC and mobile advertising. Headquartered just outside Boston, MA, OrionCKB provides a fully managed service that handles all the complexities of direct response advertising for companies in education, lead generation, gaming, mobile, ecommerce, travel, entertainment, and financial services. Clients include Zipcar, Minted, Publishers Clearing House, BaubleBar, and Personalization Mall. For more information, visit http://www.orionckb.com.