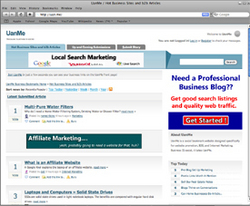 McAllen, TX (PRWEB) July 28, 2008
Uan.Me is the first social bookmarking website built on the new and extremely popular DOT ME TLD. Social Networking has exploded, becoming more popular than ever. Social Bookmarking has become part of any successful Internet Marketing Campaign. UAN.ME embraces both social bookmarking and bookmarks by internet marketers and SEO Professionals.
Many Social Bookmarking Websites shun Internet Marketers and SEO Professionals. UAN.ME has a much more liberal approach to social bookmarking. The owner, Charles Crawford Jr. calls it "Social Bookmarketing."
"I wanted to create a social networking website that welcomes all types of users. I have been a member of several social bookmarking websites and noticed that some sites and their users seemed to ostracize certain types of bookmarks that have anything to do with Internet Marketing or SEO. UAN.ME welcomes everyone, including Marketers because there is nothing evil about promoting your website."
He added, "This does not mean spammers are welcome. Legitimate stories about SEO and Internet Marketing as well as genuine stories about your products or services are welcome. However, self-promoting spam and scraped content is not. I know the difference and so will the UanMe community. I will actively monitor and remove spam from UAN.ME."
This comes as good news at a time when more companies are realizing the value of social bookmarking and social networking. Some companies now have in-house staff that surf places like Twitter and Facebook, looking for any mention of their company name so they can respond to complaints or other posts that might damage their reputation.
UAN.ME recognizes the need for reputation management, link building, and marketing by creating a place where SEO firms and internet marketers can bookmark their clients' websites and blogs while still welcoming those who want to bookmark and share their favorite news stories, websites, and blogs. Whether they own the site or not. UanMe spells community.
Charles Crawford Jr. is the owner of Crawford Business Development LLC, which is based in McAllen, Texas. Visit UAN.ME and join us.
###