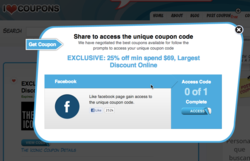 (PRWEB UK) 10 December 2012
Popular coupon website I love coupons has announced the signing of an exclusive discount deal with leading fashion retailer The Iconic. Offered through coupons new social media platform, the deal signals a big win for consumers and heralds a new era in coupon promotion for businesses.
I love coupons Director, Dominic Gluchowski said the offer, an exclusive The Iconic coupon, is the first of many set to revolutionise coupon sharing online. By developing technology that harnesses the true power of social media for our clients, we have created a world-first platform that offers businesses the greatest potential to reach the highest number of consumers, he explained.
The innovative technology provides businesses an assured means of building their Facebook likes, Google +s, Twitter followers and e-mail database. For consumers this means better coupons and bigger discounts – more often.
Genuine, quality social media connections are invaluable for business growth. Research shows that conversions from social media referrals are 48% higher than average.
This new system gives businesses greater access to the benefits of social media and their success will be limited only by the strength of their deal. With this platform, if its a great deal – it will go viral.
Its a win-win situation for both businesses and consumers. Our mission is – and has always been – to offer the best coupons on the market. We do this by offering more advantages to businesses, so that they can in turn offer better discounts to consumers. Better coupons are used more, shared more and ultimately lead to stronger sales growth, Mr Gluchowski said.
i love coupons has set itself apart from other coupon and discount deal websites by continually improving industry standards and working in true partnership with businesses and retailers. For example, in addition to The Iconic, we provide a variety of deals from valued partners including a Marks and Spencer promo code and SurfStitch promo code.
Online, as well as bricks-and-mortar businesses looking to increase customer numbers, attract steady long-term growth while maintaining a high quality service, are increasingly attracted to ilovecoupons unique business model.
Where other coupon sites use social media connections for their own advantage, i love coupons concentrates on connecting businesses with their consumers. Our focus is on working together for mutual advantage, said Mr Gluchowski.
We are committed to offering high-quality, valid coupons and our success in Australia has proven our business model is strong. This new social media platform signals our readiness to take the next step forward in transforming businesses capacity to promote great deals and in turn consumers ability to access those deals.
The Iconic is one of Australias most popular online fashion stores making it the ideal partner for us to launch our new technology with. We look forward to introducing similar unbeatable deals with many more partners in the future, said Mr Gluchowski.
Via the i love coupons website, Australian consumers can access a broad range of discounts, covering a range of categories from entertainment, hospitality, education, groceries, clothing and accessories.
If youre interested in promoting i love coupons exclusive coupons via campaign or blog please visit i love coupons website.