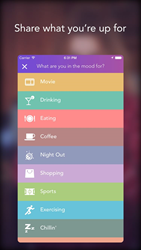 (PRWEB) April 17, 2015
Announcing Socialeyes, the new IOS/Android social networking app that brings people together and revolutionizes the users social life. This simple, easy-to-use app makes it easy to connect with friends, organize social activities and living social.
Socialeyes makes organizing social events quick and easy. Users simply select an activity or mood for the day on the app, choose a location or neighborhood, and tap to share with friends. An open invitation to friends is now live. You can plan ahead or be spontaneous. Socialeyes stores previous social activities, giving the user their own social identity. The app even features social points which can be accumulated based on the amount of social activity recorded. Both the user and friends earn social points for joining social activities.
The brainchild behind Socialeyes is Can Kagitcibasi, a University of San Diego alumnus. After working for PricewaterhouseCoopers for more than two years, Can decided to pursue his a longtime dream of launching his first startup, Tum Firsatlar, the leading deal aggregator of Turkey. Can is also a member of the Startup Grind community and the director of the Turkish Chapter. He started Socialeyes in 2013 and now, leading a team of six based in Istanbul and San Francisco, has recently raised $ 250k as seed investment from angel investor Doruk Dogramaci.
The market is becoming increasingly geared towards the mobile section of connectivity, and users want innovative platforms that will give them options to do things now, to connect now, to be able to plan and also be spontenous, Kagitcibasi explains. This is where Socialeyes can make a difference as it combines a location-driven socializing platform with real-time notifications, allowing users to look more at future possibilities rather than past experiences.
Organizing meet-ups via text or social media can be time consuming. Now thanks to Socialeyes, users dont have to wonder their friends whereabouts. Meeting a group at the local coffee shop can be organized quickly and efficiently.
All activities are based on what the user feels like doing during a given day. The activities, or moods, are clearly listed and can be selected with just a tap of a finger. Right now, the app offers 12 moods, however plans for new moods are scheduled to be released in a few weeks. As the app continues to be updated, users will soon be able to create their own customized moods.
There needs to be two things for someone to socialize with a friend: proximity and the will to do an activity. That is what makes Socialeyes different than any other app out there, says Can Kagitcibasi. We care about the activities just as much as the locations.
Socialeyes boasts a user-friendly interface and incentives for users utilizing the app for daily activities. Every action on the social networking app, from a like to a comment earns the user points, taking their rank higher on the apps social scale. Clicking on another users profile shows their social activities and ranking, giving friends the opportunity to learn about their social lives as well.
The team behind Socialeyes knows that life is a social game. They strive to help their clients create a digitized social identity, because they believe socializing should be done with just a few taps.
Contact

Name: Can Kagitcibasi

Phone: 1-415-583-5444

Alternatively: 90-533-368-1013

Email: can(at)socialeyesapp(dot)com