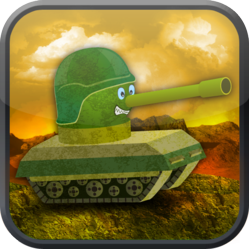 (PRWEB) February 05, 2012
Retina Software has released Tank-O-Mania, a new arcade style iPhone Tank Game in the Apple AppStore. The game is a high paced action shooter where the player operates a tank to liberate famous cities of the world.
The USP of the game is its real life depiction of the World Powers in 2D graphics along with unique A.I. of 30+ different enemies. The player would be sent to missions in the USA, Italy, Egypt, China, India and Brazil to release famous world landmarks including the Statue of Liberty, Leaning Tower of Pisa, Taj Mahal and more.
The game gives several unique experiences like throwing bombs across the Great Wall of China, or encountering falling enemies at Pyramids. User has 5 different weapons including the ability to identify and place mines in the enemys path, throw grenades or call for an air strike.
"The game manages to keep a good balance between action and strategical planning. Lovers of action, strategy and retro style games will love it.", said Zeeshan Alam, Director of Retina Software, "We look forward to seeing users enjoy playing the game, as much as we enjoyed making it."
Tank-O-Mania can be downloaded from iTunes AppStore. The link and more info is available at http://www.iphonetankgame.com. It priced at $ 0.99 and has 24 levels within 6 countries.
###