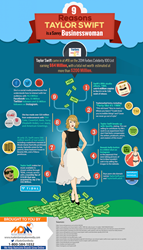 Miami Beach, FL (PRWEB) April 02, 2015
Taylor Swift has made several headlines recently related to moves the singer has made off the stage, all in an effort to enhance, protect and grow her brand. With such a large following and constant media interest in her every move, the time was right to highlight some of the recent events in a fun visual manner.
Market Domination Medias newly published infographic, titled 9 Reasons Taylor Swift is a Savvy Businesswoman, highlights recent happenings in the stars life that have contributed to her continued business success. To reach her level of success at such a young age is impressive so we took it as an opportunity to create an infographic that highlights some of her recent news and moves, explained Market Domination Media Founder and CEO, Jonathan Long.
We had fun creating this project and hopefully it will be something that many people get to enjoy, from Taylor Swift fans to entrepreneurs and business owners. Shes an inspiration as well as a great role model for the youth, and while she is a very talented performer and song writer I think her off stage business decisions are equally as impressive, added Mr. Long.
The infographic highlights nine events that have contributed to her success, including recent trademark filings, breaking up with Spotify and her recent agreement with Jay Zs newly acquired music service.
Market Domination Medias new infographic can be shared by media outlets of all sizes and enjoyed by Taylor Swift fans worldwide. The goal was to create a piece of visual content that could be easily shared and enjoyed by many.
Media outlets that would like to publish the infographic on their website may obtain the share code by clicking here and locating it at the bottom of the full-size image.
About Market Domination Media:
Market Domination Media is an online marketing agency that specializes in creating outside the box campaigns to help brands grow online.
Some of Market Domination Medias services include SEO, pay-per-click management, conversion rate optimization, website design, infographic design, animated video production, lead generation, content marketing, local search and social media marketing.
For more information please visit http://www.marketdominationmedia.com.