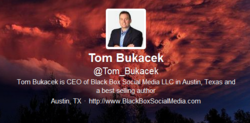 Austin, Texas (PRWEB) September 19, 2012
New Twitter Brand Pages, or Enhanced Profile Pages, were finally launched to the public on Tuesday after months of teasing the public. What are the main changes of Twitter? Black Box Social Media CEO Tom Bukacek explains in detail here.
"Today, after months of teasing us, Twitter surprisingly released its new Enhanced Profile Pages with no real advanced warning," says Tom Bukacek, who is the best selling author of "Marketing Miracles" along with Dan Kennedy and other. "This unannounced update has caught many social media marketers unprepared. This is why I've put together this report which details the main changes that marketers need to know about the Twitter Brand Pages update."
The two main updates are the Twitter Header Photo and Pinned Tweets.
"With the Twitter Header Photo, you can now use a large photo to better promote yourself or your company's image," continues Mr. Bukacek, who is the CEO of Black Box Social Media. "However, unlike Facebook and Google+, which place the profile picture to the left and right of the photo respectively, Twitter places the profile photo in the center. While this may create some immediate challenges, savvy photo shoppers will be able to create some very cool and unique cover photos."
The Pinned Tweets allow users to 'pin' a Tweet to their Page so it will remain at the top, very similar to what Facebook Timeline for Brands does.
To read the detailed report on Twitter Brand Pages, please visit http://blackboxsocialmedia.com/twitter-launches-brand-pages-or-enhanced-profile-pages/
About Black Box Social Media: Black Box Social Media is an online marketing company that utilizes multiple web 2.0 strategies including web design, social media marketing, pay per click, video marketing, article creation, and much more. BBSM also created the do it yourself online training product 'Social Media In 7 Minutes', which contains over 60 videos detailing how to create, set up, optimize, and engage on top sites such as LinkedIn, Facebook, YouTube, Pinterest, Google+, Twitter, and more. For more information on Social Media In 7 Minutes, please visit http://SocialMediaIn7Minutes.com.