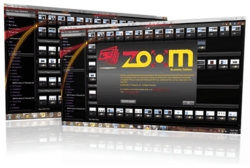 Santa Barbara, Calif. (PRWEB) February 06, 2013
Wheres that one Microsoft PowerPoint slide I really need? How many versions of this presentation do I have? Whats the quickest way to update the formatting of every slide Ive ever used?
Power users of PowerPoint will recognize these as among the most common and vexing challenges posed by the worlds most popular presentation software. With an estimated 300 to 500 million users, Microsoft PowerPoint is the de facto standard for marketers, trainers, educators and anyone with a need to convey ideas to an audience. Its also widely used as an image storage and retrieval system, for example, in the healthcare industry for X-rays, CT scans and magnetic resonance imaging (MRI) slides.
However, even expert PowerPoint users find it frustrating, time consuming and sometimes impossible to efficiently organize, manage, aggregate and share thousands of presentations and hundreds of thousands of slides. Faced with these issues while working for leading management consulting firm McKinsey & Company, Philipp Bell and an international group of professionals decided to solve these familiar problems.
The result is the lastest version of Zoom, the PowerPoint Slide Organizer for Power Users, a powerful, yet affordable utility for anyone interested in reducing slide management headaches and improving their productivity. A free, no cost trial of Zoom is available on the firms website here.
We realized that managing slides and presentations from within PowerPoint itself was not very practical, commented Philipp Bell, co-founder and president of S2 Solutions, the publisher of Zoom. Thats why we designed Zoom to serve as a portal to view, organize and share slides. Thousands of Zoom users tell us continuously how our product makes it easier and faster to create, e-mail, print and share PowerPoint slide decks."
According to Mr. Bell, its not uncommon for executives using PowerPoint to have dozens, hundreds or even tens of thousands of presentations stored on their computer or server, making managing the individual slides very time consuming. For this reason, Zoom was developed to provide a super grid overview of slide thumbnails, automatically locating every .ppt file anywhere on the users hard drive, server or network.
Many Zoom users have large collections of slide decks with hundreds of thousands of slides and images associated with them. With Zoom, handling that kind of slide repository is transformed from being a management nightmare into childs play, Mr. Bell comments. When time is of the essence and professional presentations require pulling together a variety of content, ranging from videos, graphics, charts and data, Zoom makes it faster and easier to create, e-mail, print and share PowerPoint slide decks.
Top 10 Reasons Zoom is the Leading PowerPoint Utility:
1.