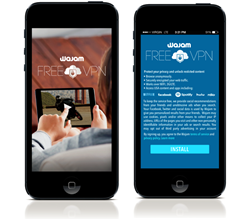 Montreal, Quebec (PRWEB) March 05, 2014
Wajam (http://www.wajam.com), a leader in social search, today announced its new VPN App, which offers free, secure and anonymous browsing on your iPhone, iPad or iPod while giving iOS users friends recommendations using Google Search and Google Maps. Wajam offers an easy way to get your friends input on places to go, products to buy, as well as videos, photos and links on searches conducted in Google through Safari. This new VPN offering gives users the ability to access other countries exclusive websites and keep data safe from unsecured Wi-Fi networks and harmful sites, whether at home or traveling.
Currently available in the U.S., Canada, U.K., New Zealand and Australia (and soon-to-be available throughout Europe), Wajam Mobile VPN app can be downloaded from the App Store: https://itunes.apple.com/ca/app/wajam-free-vpn/id818939379?ls=1&mt=8.
"As you take your friends with you on the go with Wajam Mobile, our new integrated VPN app will keep you and your data safe while browsing and sharing information on the web," said Martin-Luc Archambault, Founder & CEO of Wajam. "Because of our social search revenue model, we are able to embed a full VPN offering to users at no cost to them. Prior to Wajam, no one had been able to integrate Facebook, Twitter & Google+ data within a typical Google search…and now we have taken our product to another level by adding a layer of security and anonymity, while opening the gates of content which have been blocked across geographic boundaries."
Adding VPN elevates security by preventing local ISPs from spying on users, securing connections against harmful sites and unsecured Wi-Fi networks and providing a layer of encryption to users' mobile data traffic using IPSec secured protocol. In addition, the free VPN feature compresses data to help users save on data usage. Wajams free VPN app also helps secure details when users login to websites or enter personal information such as bank accounts and credit card numbers on 3G or unsecured Wi-Fi networks.
We believe that there's an opportunity as a third party to bridge the gap between competing search platforms, and ultimately give users more choice in which search engine and which social platforms they can use to get the recommendations they need, added Archambault. Adding this VPN capability and encryption opens the doors to increase security while again giving users more choice in accessing web content they couldnt otherwise get. This is a great differentiator for us!
How VPN Services Work

Computers or phones have an IP address assigned by an ISP which can be used to figure out the geographic location of a user's ISP data center. Changing an IP address makes it harder to trace the user's online activity and location.When trying to access a service that is restricted by geographic region, Wajams VPN app will "change" the user's geographic location by overriding the IP address assigned by an ISP with one drawn from its pool of servers. Using a VPN service adds security by encrypting all online traffic and ensures data remains hidden from third parties when on an open wireless network.
About Wajam Great Minds Search Alike http://www.wajam.com

Wajam (http://www.wajam.com) is a social search engine that gives you access to the knowledge of your friends when you need it. The Wajam Social Search Everywhere Plugin makes searching the web more personal by adding results from friends to standard searches on Google, Bing or Yahoo! It elevates search relevance by featuring your friends' likes and reviews for products, places, links, photos and videos within your regular search habits, even in places like Amazon, Yelp, Trip Advisor, YouTube and Ebay. The Wajam Search site gives users the ability to search their network of trusted friends and followers across multiple social networks all in one place. In addition, Wajam features a mobile app to tap into this social knowledge on the go, and a new, free integrated VPN app that keeps your data safe when browsing and sharing information on the web.
Wajam continues to be decorated with industry recognition and awards. In 2013, the company was recognized as the Digi Awards Company of the Year, and received an innovation award from PwC Vision to Reality, three Golden Bridge Awards, and four International Stevies Awards. Wajam received the highest security certifications from TRUSTe, McAfee and Norton, and is committed to protecting privacy and keeping user info safe. Wajam launched in private beta in January 2011 and was founded by Martin-Luc Archambault, the winner of the Quebec Notables Young Professional Award and Ernst & Young Entrepreneur of the Year Award 2012. Wajam is privately held and funded by Bolidea. Visit us on Facebook at http://www.facebook.com/wajam or Twitter at https://twitter.com/wajam. Please refer also to our award-winning Press Page or visit our Blog.