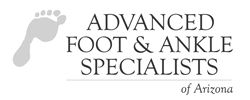 Chandler, Arizona (PRWEB) May 12, 2015
Feet are truly the foundations upon which each persons life is built. From our humble first attempts at learning to walk through the confident strides of adulthood, our feet serve tirelessly, and yet rarely do they get the credit that they deserve. Most people rarely give their feet a second thought until they begin to hurt, and often try to walk it off for weeks or even months before seeking the help of a doctor. Whether they are used to ignoring foot problems due to a fear of the unknown or simply a brave attempt to tough it out, Arizonans now have an easy way to seek help for their painful feet and anklesAdvanced Foot & Ankle Specialists of Arizonas newest website, a hub for information and help.
Advanced Foot & Ankle Specialists of Arizona boasts two convenient Valley locations in Chandler and Gilbert. Both offices offer a full range of foot and ankle care as well as easy access from all parts of the greater Phoenix area, but the foot doctors at Advanced Foot & Ankle Specialists of Arizona wanted to reach out to those seeking assistance and advice when they need it most. To answer the call for on-demand information and help, Advanced Foot & Ankle Specialists of Arizona has launched a new web presence to offer visitors a wealth of information about foot and ankle injuries, pain, and treatments.
Visitors to the website will find comprehensive information about basic at-home care and prevention for a variety of common ailments, as well as discussions on identifying important symptoms and knowing when to seek medical care. Unlike other websites, Advanced Foot & Ankle Specialists of Arizonas new Internet home throws out the old, tired jargon and medical terminology; people with hurting feet will only find straightforward, helpful content written with them in mind.
Advanced Foot & Ankle Specialists of Arizona practices patient-focused, educational treatment and diagnosis, believing that information is key to a total recovery. Conservative treatments take a priority, allowing patients the quickest recovery time and getting them back on their feet as soon as possible. When a condition warrants a more aggressive approach, however, Advanced Foot & Ankle Specialists of Arizona offers cutting-edge technology and innovative treatments for everything from fungal nails to serious diabetic wounds.
Learn more about the newest website for Phoenix area foot and ankle care, designed and built by the doctor marking firm Foster Web Marketing by visiting http://www.advancedfootankle.com.
About Foster Web Marketing:
Founded in 1998, Foster Web Marketing (FWM) offers attorneys, physicians, and other professionals across North America and overseas an effective online marketing approach that combines appealing and intuitive design with the latest search engine optimization, comprehensive marketing services, and content management strategies. FWM has proven that it is possible to build a Made in the USA business with excellent customer service in a very competitive market, all while helping its clients succeed through powerful websites and proven education-based marketing techniques using its proprietary secret weapon, Dynamic Self-Syndication (DSSTM). To learn more, please visit http://www.FosterWebMarketing.com.