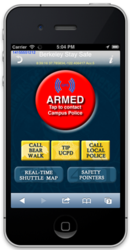 New Canaan, CT (PRWEB) April 25, 2013
Defentect Group, Inc. (OTC Pink: DFTC) a leading intelligent threat awareness firm, through its subsidiary DefenCall, Inc., today announced the publication of a new white paper. The Guide to Inbound Alerting for Colleges & Universities explores how campuses can use smartphone panic button apps as part of their overall school safety plan to improve campus security. Smartphone panic button apps allow students and staff to tap a single button to make an emergency call while simultaneously sending an alert message including their GPS location by text, email and monitoring dashboard to campus security personnel.
Technology advancements, especially the proliferation of smartphones, have dramatically increased the number of options available for student safety. The purpose of the Guide to inbound Alerting for Colleges & Universities is to introduce administrators, safety personnel and student organizations to using personal smartphones as emergency alerting devices and discuss how smartphone panic buttons fit into an overall campus safety toolbox.
The white paper specifically covers: