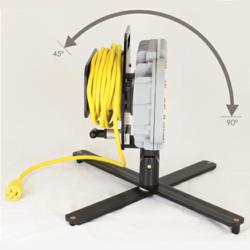 Hamburg, New York (PRWEB) April 25, 2013
K&H Industries New WidEye LED Wide Area Light is UL and CSA listed, the WidEye Wide Area Explosion Proof LED Light is suitable for Class 1 Division 1 Hazardous Locations such as petroleum refineries, utility gas plants, as well as storage and handling of liquefied, petroleum gas or natural gases.
The WidEye incorporates both cutting edge LED technology along with propriety optics to achieve a wide area light comparable with traditional light sources. Up until now, industries requiring Class I Division 1 wide area lights only had archaic light choices which had many drawbacks, including lack of brightness, poor color rendition, and extremely hot operating temperatures. This created a danger for the user and energy inefficiencies. says John Herc, vice president K&H Industries.
Check out the WidEye on You Tube: http://youtu.be/2nQ7RvDosF8
Features on the WidEye Wide Area Hazardous Location Light:

5,500 lumens
180