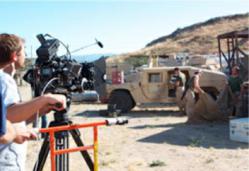 New York, NY (PRWEB) February 27, 2013
Its no secret that Americas military service members have stories to tell. The New York Film Academy (NYFA.edu) wants to help them do it on stage and screen through its enhanced programs and services offered to veterans using their veterans education benefits.
New York Film Academy (NYFA), an international film and acting school offers Conservatory, Associates, Bachelors and Masters Degree Programs, and is regarded as a Top Military Friendly School, with many programs approved for the Post-9/11 GI Bill, and is a proud participant in the Yellow Ribbon Program.
The Post-9/11 GI Bill provides financial support for education and housing to individuals with at least 90 days of aggregate service after September 10, 2001, or individuals discharged with a service-connected disability after 30 days. In many cases, the Post-9/11 GI Bill covers the full costs of programs for veterans and dependents. This benefit provides up to 36 months of education benefits, generally benefits are payable for 15 years following release from active duty. The Post-9/11 GI Bill also offers some service members the opportunity to transfer their GI Bill to dependents. The New York Film Academy also participates in the Yellow Ribbon program, which is an agreement with the VA to to share expenses for educational tuition and fees that exceed what is covered by the Post-9/11 Bill. This broadens the educational options for veterans, including the opportunity to pursue study in the performing arts as provided by New York Film Academy.
With the inception of the Post-9/11 GI Bill in 2009, it has led to increased enrollment of student veterans across the country, as well as increased enrollment at the New York Film Academy. More than 800,000 veteran students have utilized Post-9/11 GI Bill education benefits. In an effort to continue providing quality service to support veterans transitioning to the New York Film Academy, NYFA has opened a stand-alone Office of Veterans Services that serves to support the transitional needs of service members, veterans, and their dependents.
The New York Film Academy welcomes veteran students as vital members of our student population. Veterans life experiences, and sacrifices will contribute to their ability to capture and create the human experience for a broad audience through performing arts said John Powers, Director of Veterans Program at the New York Film Academy.

The school is also set up to help in the transition to a civilian and campus life. New York Film Academys Office of Veterans Services, operating out of the schools Los Angeles location provides veterans with the following services:


Simplifying VA educational benefits
Evaluating students academic records, and military and educational training
Guidance on selecting programs that best suit personal and professional goals of the incoming student
Assisting with post-deployment transition issues
Referrals to community-based organizations and the Department of Veterans Affairs
For more information or to apply for participation in the program, contact the New York Film Academy Office of Veterans Services at 818-295-2020, or via email, veteran(at)nyfa(dot)edu.
About the New York Film Academy
New York Film Academy provides students many options to access a performing arts education in acting for film, filmmaking (feature films, documentary and broadcast journalism), producing, cinematography, game design, animation, screenwriting, musical theater and photography. The school is accredited by the National Association of Schools of Art and Design (NASAD), the only accrediting body for visual art programs recognized by the U.S. Department of Education.
New York Film Academy is honored to be the school of choice for many luminaries in the film industry who have sent family members to study at the institution. They include Steven Spielberg, Martin Scorsese, AI Pacino, Robert Downey Jr., Jamie Foxx, Jodie Foster, Kevin Kline, Pierce Brosnan, Susan Sarandon and Tim Robbins, Bono (U2), directors Stephen Frears, Peter Bogdonavich, Roger Donaldson, and James L. Brooks, among others.
The New York Film Academy has welcomed numerous top actors, producers, directors, writers, editors and other entertainment professionals to lecture for students. Guest lecturers include Steven Spielberg, Ben Stiller, Kevin Kline, Ron Howard, Glenn Close, Kevin Spacey, Joel Shumacher, William Friedkin, Brett Ratner, Richard Dreyfuss, Joel Silver and Kathleen Turner