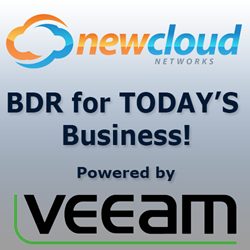 Denver, CO (PRWEB) April 30, 2014
Nationwide cloud computing and communications provider, NewCloud Networks has selected Veeam to power their state-of-the-art backup and disaster recovery solutions for virtual environments. Having recently expanded their data center footprint, NewCloud was in need of reliable data protection software in order to provide a surefire backup and disaster recovery (BDR) solution to their virtual and hybrid cloud customers.
Virtualization in the mid-market is on the rise, and with that comes the need for geographic redundancy and true disaster recovery, says Sam Kumar, President of NewCloud Networks. He adds that after extensive research by our Engineers, we selected Veeam as our vendor for backup and disaster recovery in virtual environments because they possess the necessary expertise in our technologies as well as dedication to providing top of the line support. Mike Waguespack, Senior Director of Veeam Softwares Global Cloud Group, stated, We are excited that NewCloud Networks has selected Veeam. At their rate of growth, we are confident NewCloud will help increase the number of workloads protected with Veeam.
NewCloud will use Veeam Backup & Replication to provide BDR solutions to mid-market businesses in two ways. Companies with their own data center infrastructure can utilize the Veeam-powered service to back up their data to one or more of NewClouds data center facilities. NewCloud's data centers are located in Denver and Phoenix, both are areas considered geographically secure from a natural disaster standpoint.
Customers hosting their infrastructure using NewClouds Virtual Private Data Center solution will have the benefit of selecting their primary data center (Denver or Phoenix) and utilizing the Veeam-powered service for backup and disaster recovery to a secondary data center (Denver or Phoenix).
Our goal is to provide mid-market businesses a complete infrastructure solution with full disaster recovery capabilities, says Kumar. Veeam has proven itself the perfect partner for our company goals.
About NewCloud Networks: NewCloud Networks is a nationwide cloud computing and communications provider. NewCloud specializes in the deployment of virtualized infrastructure including public, private and hybrid cloud services.
About Veeam: Veeam is a rapidly expanding backup and replication provider specializing in virtual environments.