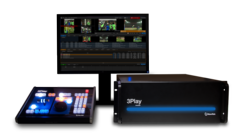 San Antonio, Texas (PRWEB) April 07, 2013
NewTek today unveiled 3Play 4800, a multi-camera replay server that redefines price-performance standards in live sports production. The new system, which offers more real-time capabilities than any other multi-camera replay server, gives sports producers unprecedented access to redundant capture, sophisticated visual effects, live replay switching, high quality slow motion, and social media publishingall within a single, turnkey system. 3Play 4800 is available immediately at the breakthrough price point of $ 39,995 USD.
Replay is no longer optional in sports production. Unfortunately, the high cost and limited functionality of todays popular replay servers makes it a challenge for any sports organization to effectively manage infrastructure costs as technology advances, said Dr. Andrew Cross, Chief Technology Officer at NewTek. Weve set a new standard with 3Play 4800 by putting more real-time capabilities directly in the hands of replay operators, while at the same time, significantly lowering capital costs for any sports organization. With 3Play 4800, producers can now deliver the electrifying highlights that drive greater fan loyaltyand have a direct impact on the revenue and profitability of their business.
3Play 4800: A Breakthrough in Live Sports Production
Todays leading sports venues, leagues, and teams recognize that their success is directly linked to building, maintaining and growing a fan baseand that fan loyalty increases when the game experience they provide keeps viewers on the edge of their seats, wanting more. But the high cost of common replay server technology has prevented most stadiums, colleges, teams and leagues from gaining access to the tools they need to stay competitive. 3Play 4800 shatters the barrier to entry for replay servers, enabling sports producers in any market to add professional instant replays, dramatic slow motion, and social media publishing to their games for a fraction of the cost.
3Play 4800 goes significantly beyond traditional live replay and provides out of the box integration with Facebook, Twitter, YouTube and more. This solution allows operators to instantly deliver media into their existing dialog with fans, which no other system allows.
"The overall performance, feature set and cost of 3Play 4800 quickly proved to be a game changer for me. It easily fits within our production infrastructure and the intuitive replay workflow keeps things going smoothly and quickly," said John Powell with NPi Audio Visual Solutions, who has been involved in the development and testing of the system. We work with both local and national organizations, so we have to constantly provide top-line performance at every level, and we are always striving to enhance the fan experience. 3Play 4800 does all of that and more. It truly makes my job easier.
Unique Toolset of 3Play 4800
Unlike any other replay server on the market, 3Play 4800 offers more real-time capabilities in a single turnkey system, placing an unprecedented toolset at the fingertips of every replay operator.
Top features of the system include:
1.