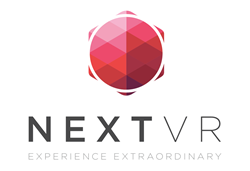 LAGUNA BEACH, Calif. (PRWEB) September 12, 2014
NextVR, a pioneer in immersive, high-definition virtual reality technology for live and recorded experiences, today announced their new NextVR Virtual Reality Digital Cinema Camera System. The advanced camera system is being used to film the first ultra high definition, 360-degree 3D virtual reality content for the mass market. NextVR will be exhibiting a six RED EPIC DRAGON version of the system within the RED Digital Cinema booth (Hall Number 10, Stand Number 10.A10) during IBC2014 in Amsterdam.
The patent-pending NextVR Virtual Reality Digital Cinema Camera System is a 360-degree stereoscopic array of high resolution, high dynamic range digital cinema cameras that capture immersive, ultra high definition stereoscopic video and spatial audio for virtual reality displays. NextVR will be using its state of the art technology to bring the highest quality 3D virtual reality content to the market for use in products like the recently launched Samsung Gear VR.
Having a true professional-grade digital cinema camera system is imperative to help filmmakers and broadcasters create the highest quality virtual reality content possible, stated DJ Roller, co-founder, NextVR. This system will help produce the compelling visuals consumers expect, as the demand to enjoy these amazing like being there experiences expands.
The technology behind the new NextVR Virtual Reality Digital Cinema Camera System is partially based on the three-dimensional video and camera technologies that several of the companys engineers and producers designed for use in films like the IMAX