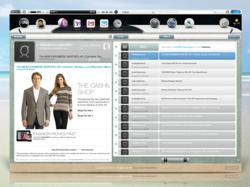 New York, NY (PRWEB) October 24, 2012
nifo today announced the beta launch of Sphinx, the next step in social Web evolution. Sphinx combines a new generation of email client, rich media manager, social media management tools and an embedded HTML5 rich media player. All components and apps are tightly integrated into one HTML5-based Social Web Operating Environment (SWOE), allowing registered users maximum flexibility and the highest productivity with Social Media Network integration points. The Beta version signup is available at http://www.nifo.com.
Now you can have one place to access, organize and manage all of your online digital stuff, as well as share it as needed across personal and business networks, said Timur Khabirov, Founder and Chief Creative Officer of nifo. We believe that integration of new Web technologies and the ability to customize your environment is what will give you the freedom to communicate, socialize and imagine. We've combined the best features and functions of user experience, software and social platforms and put it into Sphinx.
Sphinx gives users easy-to-use drag-and-drop functionality, the ability to create their own tools to help organize their online and offline lives. Additionally, Sphinx profile settings allow users to customize all features of the platform, including external profiles, website presence, and 'personas' available in later releases.
Sphinx brings together several components, in a freemium model, for registered users.
Sphinx Mail provides powerful email and social media integration functions and features, including list management, contact management, social media management and integration. More advanced features will further automate functions related to running email marketing based campaigns, all without leaving your browser. With Sphinx Mail, users can simplify their email management by aggregating email accounts (Gmail, Hotmail, Yahoo and AOL).
Sphinx Social provides social media management tools as an integral part of the workspace and experience. From the platform, users can post to Facebook, Twitter, Google+, and LinkedIn. These tools let users share email-based content via social networks, and also provide analytics and integration of mail and social components.
Sphinx Gala is a browser-based rich media depot that manages audio, video and personal data collections. Gala is integrated with popular services such as Spotify, Pandora, YouTube, Vimeo, among others. Sphinx Gala can understand and manage multiple audio, video and personal data formats. Its integrated with Sphinx Mail, allowing users to manage their email attachments and to seamlessly integrate their email and media search functions. Sphinx Gala also manages users media playlists, while offering detailed information related to performers, lyrics, history, and other useful data.
Sphinx Eye is a browser-based rich media player using new HTML5 technology. It allows users to choose where to position the player inside of a browser window. Sphinx understands and manages hundreds of rich media formats, while helping users with format conversion tools. The Sphinx Eye lets users drag, drop and play files right in the browser.
nifo Sphinx Launch coincides with the companys appearance at the CMO Club Labs event, taking place in San Francisco on October 25th, 2012. nifo is presenting the story of an integrated social web operating environment, and future functions related to professionals and SMBs, to a group of Enterprise and Small Business CMOs (Chief Marketing Officers) from various industry segments. The unique purpose of the CMO Club is to bring Chief Marketing Officers together in an environment of openness and collaboration that enables them to excel at what they do and solve their biggest CMO challenges. Hence, it is the perfect venue for nifo Sphinx to engage with marketing audience from such notable companies as AON Insurance, The Grammys, Microsoft, GameStop, Michaels and many other B2B and B2C brands. Nifo will share the presentation stage with other startups, such as iSocket, VideoGenie, PodPoster, Ensuant, and many more.
About Nifo

Nifo, is the creator of the first Social Web Operating Environment (WOE), Sphinx, which combines a new generation of email client, rich media manager, social media management tools and an embedded HTML5 rich media player. Based in New York City, Nifo is privately funded and holds six provisional patents on technologies that underlie the Sphinx platform.