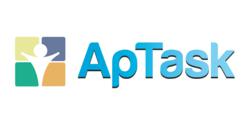 Edison, NJ (PRWEB) February 21, 2013
ApTask has been named one of the Best Places to Work in New Jersey. This survey and award program identifies, recognizes and honors the top places of employment in New Jersey that benefit the state's economy, its workforce and businesses. The Best Places to Work in New Jersey program is made up of 100 companies split into two groups: 62 small/medium-sized companies (15-249 employees) and 38 large-sized companies (more than 250 employees). ApTask has been named one of the Best Places to Work in New Jersey in the small/medium category.
Companies from across the state entered the two-part process to determine the 100 Best Places to Work in New Jersey. Part one consisted of evaluating each nominated company's workplace policies, practices, philosophy, systems and demographics. This phase was worth approximately 25% of the total evaluation. Part two consisted of an employee survey to measure the employee experience. This phase was worth approximately 75% of the total evaluation. The combined scores determined the top companies and the final ranking.
"This prestigious honor further validates ApTask's place as a market leader," stated Joseph Butler, CEO of ApTask. "This feedback loop gives us the vital data we need to ensure our team is beyond excited about the environment they work in and that we have developed a culture of excellence that carries over to the way our clients are treated," Butler added.
The award program, created in 2005, is produced by NJBIZ. NJBIZ, program sponsors and partners will honor this years 100 Best Places to Work and announce their ranking during an awards dinner and ceremony on Thursday, April 25, 2013 at the Hilton East Brunswick.
The program sponsors are: MetLife Solutions Group and Gibbons P.C. The program is in partnership with Garden State Council SHRM, The New Jersey State Chamber, Employers Association of New Jersey and the New Jersey Economic Development Authority.
Founded in 2009 ApTask is a provider of Human Capital Management Solutions. ApTask is able to provide its clients a complete suite of service and software solutions including: Contingent Staffing, Direct Hire, Payroll and Pass-thru Services, RPO Outsourcing and Workforce Management Solutions (MSP & VMS). ApTask is a Certified Minority Owned Business thru the National Minority Supplier Development Council (NSMDC). For more information, visit http://www.aptask.com.