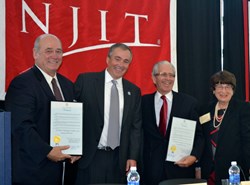 Newark, NJ (PRWEB) October 07, 2013
Commissioner Wirths kicked off ManufactureNJ Week at NJIT stating that the 243,000 jobs created through manufacturing confirms the value of this industry to the Garden State. He added that "we collectively" need to continue to raise the awareness of the numerous opportunities in this industry and change the publics perception of manufacturing. Todays 17,000 New Jersey manufacturers are technology driven and meet the needs of niche markets ranging from hat makers to medical devices.
Commissioner Wirths also presented to NJIT President Joel S. Bloom, and to the principals of ManufactureNJ Talent Network Gale Tenen Spak and Ray Vaccari, a proclamation from Governor Chris Christie declaring October 7-11, 2013 as ManufactureNJ Week that stated advanced manufacturing is one of the seven priority industry clusters in the state.
President Bloom added, "Manufacturing is in the DNA of our university and we are committed to collaborate with all those involved to grow and raise the visibility of this key industry. With the support of the New Jersey Department of Labor and Workforce Development, NJIT is leading the Advanced Manufacturing Talent Network and helping New Jersey companies find the employees needed to meet current demand and to continue to grow their businesses."
The Manufacture New Jersey Road Show Video debuted as well. This video is targeted to middle school students and explains the career possibilities in manufacturing. Moreover, the kickoff event begins a series of round-table talks, tours, and demonstrations to be held around the state beginning on Monday, October 7. For a complete list of the week-long events, click here.
The featured panelist discussion focused on the state of advanced manufacturing in NJ. These industry leaders discussed the needs of NJ manufacturers; the current skill set required for employment; the progress made in training individuals for careers in manufacturing; and the access/availability of education for this sector.
The panelists include: