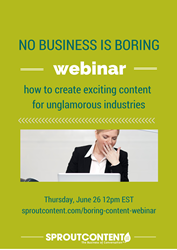 Pensacola, FL & Denver, CO (PRWEB) June 20, 2014
Content creation is exploding across all industries as more business owners and marketers employ inbound marketing strategies. According to a study by the Content Marketing Institute, 73% of B2B marketers said they are producing more content now compared to one year ago. But how can marketers make sure that content is what their audience wants, especially if they work in a technical or heavily regulated industry? SPROUT Content, a content marketing agency, is hosting a free webinar that will provide ideas for creating exciting and inspiring content for traditionally boring industries.
The webinar No Business is Boring! How to Create Exciting Content for Unglamorous Industries on Thursday, June 26, 2014, at 12pm EST will demonstrate how behind-the-scenes industries such as manufacturing and telecommunications have a unique opportunity to talk to their prospects and educate them in a way that few other companies in their space do. B2B businesses that reveal their voice, personality, perspective and expertise in their content make stronger and lasting connections with their audiences. They are able to share their story with the world and, in turn, drive leads and sales.
In the webinar, SPROUT Content co-founders Dechay Watts and Debbie Williams will discuss how they inspire their clients whose products and services range from paper converting to document storage to agile consulting to think about their content differently. Its a conversation they have with every client. We like to say that SPROUT Content specializes in 'boring' content, said Watts. That doesnt mean we create content that puts people to sleep, but rather that we help businesses express how their products and services actually help people rather than just spouting off lists of facts and figures. By making your content relatable, you make it cravable.
In the webinar, Watts and Williams will share: