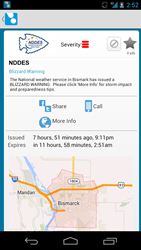 Nashua, New Hampshire (PRWEB) December 19, 2013
The North Dakota Department of Emergency Services (NDDES) is the second state agency in the country to deploy ping4alerts!, a mobile alerting platform, to deliver highly-localized emergency alerts to citizens statewide.
Using Ping4 Inc.s technology, we are now able to notify North Dakotas 700,000 residents and any visitors to the state of immediate dangers and emergencies, said Director of Homeland Security Greg Wilz. We are proud to be one of the first state agencies in the country to offer this important and meaningful mobile application for the safety and protection of our communities and citizens.
Ping4alerts! is a free iOS and Android app that uses the latest location based technology to deliver notifications to mobile devices within a highly-localized area. Through a web-based application, NDDES can draw a shape on a map as small as a street block or as large as the state to push an emergency notification to the space inside the geofence. Ping4 Inc. respects user anonymity and does not require users to provide any personally identifiable information such as phone numbers, street address, or email address. Ping4alerts! delivers the targeted alerts over the Internet through GPS, cellular, and available Wi-Fi networks.
Citizens and visitors to North Dakota will also receive severe weather advisories and alerts from NOAAs National Weather Service. The integration of extreme weather notifications into ping4alerts! give residents ample time to react whether its a tornado or a fast-moving blizzard.
Ping4 Inc. delivers rich media alerts that include images, custom audio, video and mobile web links. The app provides instantaneous alerts for fast-moving emergencies, while providing other necessary information such as evacuation routes and shelter information. These features coupled with the platforms precise accuracy, insure public safety information is targeted, instant and, above all, relevant.
We are honored that Director Wilz is leading North Dakota to adopt Ping4 Inc.s innovative technology to help improve communications to keep citizens safe, said Jim Bender, CEO of Ping4 Inc. Communicating with the public is critical, especially during emergencies. Ping4alerts! instantaneous technology has the capability to deliver potentially life-saving information to the public in a matter of minutes.
Citizens are encouraged to download the ping4alerts! app by simply visiting the App Store or Google Play.
About Ping4 Inc.

Ping 4 Inc., is a Nashua, New Hampshire software company utilizing the latest in push technology to deliver realtime, locationbased, multimedia alerts to any iOS or Android mobile device. Public safety agencies license the platform to keep citizens informed of extreme weather events and other fastmoving situations. Consumers are not required to give up any personally identifiable information. User identity is 100% protected. More information is available at http://www.ping4.com.
Contact: Kyla Natali, Public Relations Manager

Email: Kyla.Natali(at)ping4(dot)com

Phone: (603) 548-8533