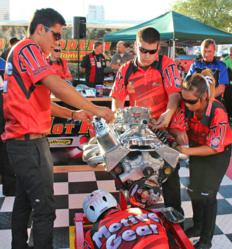 Anaheim CA (PRWEB) February 02, 2013
Students Chris Schamitz, Andrew Romero, Josh Coman, Stephen Brown and Aileen Melendez disassembled and reassembled a small block engine in 21:24. Each student won $ 10,000 scholarships to Ohio Technical College, University of Northwestern Ohio, and School of Automotive Machinists in Houston, Texas.

Students qualified for the national contest by placing fist in the Edelbrock Hotrodders of Tomorrow competition in Torrance last spring.

Auto Techniocians are in high demand. There are projected to be 124,000 jobs open annually and dealerships are having a hard time filling vacancies. Skilled auto technicians who work hard can earn six figures annually according to a report on Yahoo Finance on November 20, 2012.

Another ROP team from Loara High School won fifth place in the same contest. Audrey Hernandez, Kathy Mendoza, Ruby Perez, Samantha Bushey, and Robert Loera each won $ 6,000 scholarships to the schools listed above.

North Orange County ROP was created by a collaboration of five school districts: Anaheim Union and Fullerton Joint Union High School Districts, and Brea Olinda, Los Alamitos and Placentia-Yorba Linda Unified School Districts, and serves fifteen cities in the north Orange County region with top quality career teachnical classes at 23 high schools and three institutes. For more information visit North Orange County ROP on its website, http://www.nocrop.us, or call the Student Information Department at (714) 502-5858.
Website: http://www.nocrop.us