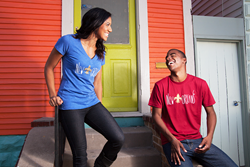 New Orleans, LA (PRWEB) November 20, 2014
New Orleans Tourism Marketing Corporation (NOTMC) announces the launch of the "New Orleans City Store. One of Americas most culturally and historically-rich destinations, the official city store features New Orleans-branded items featuring the iconic fleur de lis, as well as unique themes from the citys "Follow Your NOLA" advertising campaign that encourages visitors to explore the city in a whole new way.
"From hidden jazz clubs to world-famous restaurants, theres no place in the world quite like New Orleans," said Mark Romig, President and CEO of New Orleans Tourism Marketing Corporation. "Now people can proudly demonstrate their love for New Orleans by wearing its official brand."
The store will feature t-shirts, tote bags and posters, and will soon expand to showcase some of the citys authentic native brands, including the iconic water meter and historic French Market items, through partnerships and license agreements with New Orleans Sewerage and Water Board and French Market Corporation. A portion of the proceeds for products sold bearing these iconic images will benefit the respective organizations.
NOTMC issued an RFP to local vendors to manage the retail website, merchandise production and fulfillment for the online store and established a partner agreement with Blake Haney, the creative director and proprietor of Canary Collection and local apparel retailer Dirty Coast. Screen-printer Purple Monkey Design will also be a partner. All products are silkscreened and shipped locally from Purple Monkeys studio in the Bywater.
###
About New Orleans Tourism Marketing Corporation (NOTMC)
NOTMC promotes the city as a leisure tourism destination throughout the year. NOTMCs marketing campaigns include strategic TV and digital marketing, social media and public relations. Websites: NewOrleansOnline.com; FollowYourNOLA.com; GoNOLA.com; Social Media Channels: Facebook: Visit New Orleans; Twitter: @VisitNewOrleans; Instagram: @VisitNewOrleans; YouTube: GoNOLATV; Pinterest: New Orleans.