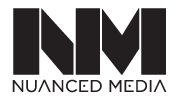 Tucson, AZ (PRWEB) February 26, 2013
Some of the websites Nuanced Media has been adding their information to the following directories: Cliqsearch, copilot, and Cricket.
Business management, in todays society, compromises store management and online presence. With millions of users every day, the internet has turned from a fad into a necessity. Each of these directories allows the companies information to be easily accessible.
Businesses all over the world can spread their brand while targeting potential consumers. An Important factor for customers is their ability to easily find the product or service they are searching for.
Cliqsearch takes on a different approach than most of the online directories. Instead of having a large map of the nearby area, Cliqsearch utilizes a gallery of videos, photos and any insight. The insight is any likes, comments, check-ins, tips and followers the company already has. It allows users to understand the popularity to find the most ground-breaking clique.
Copilot is a quick, simple, and easy to use application. Most applications overload the user with the companys information. Copilot provides the user with only the necessities. This means the phone number, address, website, and any coupon currently offered. If the consumer plans on venturing to this business, there is a set destination button that will send the user on their way.

The last directory, Cricket optimizes the companys significant information. The consumer can easily find the address, Google map of the location, hours of operation and what type of payment options are available. Cricket does not do anything to confuse the user, all of the information the user may need is within the frame of the page and easy to read.
About Nuanced Media
Nuanced Media is a full service Tucson web design and Tucson marketing firm. They can be found at 301 N Norton Ave. Tucson, Arizona 85719 and can be reached at 520.261.7764